In My Momma's Eyes
February 16, 2013
When I was young, my momma used to say that I was the strongest-willed girl she'd ever seen. She told me that I had a fiery temper and that whoever managed to get it all flared up would have to watch, because I wouldn't ever back down against them after they'd gotten me in a huff. She said that I had a fire in my gaze that was equal parts endearingly inquisitive and scarily devious and that I'd better use my mind for the former, because if I was too devious I'd get myself into an awful lot of trouble, and she was right and I knowed it. She used to tell me that I was the stars, the moon, and the sun all wrapped up in one when I looked at her, and she seemed to think that I was some sort of clairvoyant creature come right to her doorstep in the middle of the night. It seemed I warn't able to do no wrong in my momma's eyes, even when I managed to get myself in heaps of trouble.

In my momma's eyes, I was everything. I could be everything, and I was as good as any other living creature, maybe even as good as the angels up in heaven, she'd said to me one night as I laid against her shoulder, half to sleep. Those were the good times, when my momma was 'round to comfort me and keep me safe from the harmfulness that is the world.

My momma died three years ago last January, in an accident up north near Philly, when she went to visit her pa. I'm not real sure what happened, since Aunt Tilly won't tell me much; says I'm only a child of nine years old and don't need to know what happened, but I know it must've been awful bad because when we traveled up there they wouldn't even let me look at her remains.

All I knows is that I lost my momma that January to the cold winds of Pennsylvania and that she ain't never going to come back to me.

It's awful lonely without her, and now there's no one to hold me when I'm sad or rock me to sleep. Now, when I get into deviousness, I just get scolded and punished and told to go away, and no one ever mentions the glint in my eye that's made up half of a cup of sweet brown sugar and half a sharp kick of pepper.

Without momma's eyes, I ain't everything no more. I ain't endearingly inquisitive, or fiery, or devious, or good as any living creature at all.

Without momma's eyes, I'll never be as good as the angels up in heaven.

At least, I won't be. Not no more.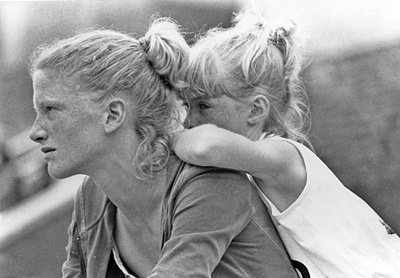 © Felicia F, Marlow, OK