If Death Were a Gentleman
August 10, 2013
if Death were a gentleman, then the possum lying inside out on the road
the product of some kid in a car who wanted to see some blood
would be the last screeching entrance of Death
into and then – hiss, bam, bang – out of this dimension
because he would learn from the human exhalations that he passes on his way out
some manners
and he would enter quietly, when asked for by creaking bones
and smile, and tip his hat.


or his lesson would have been learned in the breath of that bullet that hit the boy walking home –
bang! justice learned, finally, from the yell of a harmless body harmed –


or in the girl in the woods – the girls in the woods – whispering their shame to the foliage, who would tell death as he passed through –


or in the broken bodies in the war, sent home or in home, lost to sorry desert sands that would roar through the world so loud Death could not ignore them –


or in the people who fell in the fires of a thousand buildings falling, expanding, shattering
or the frightened children crying, crying anytime, from the impotent land that lent all man life, or the depths of the city as sirens and mothers wailed against the boom-boom-boom of the bombs, a sorry symphony that would move Death to tears –

or the women melting into their homes, kimonos radiant on their skin, or the men with skeleton faces imprisoned by heaven and hell, or the soldiers, anytime, the people, anytime, the thousands wilting, burning, hanging in persecution, rotting in forgottenness –

or eons ago when man first picked up a stone and killed his brother –

except death, of the earth, he has nothing to learn

fabrications cannot learn, understand

Death: made not by God, nor anything godly!


no, if there were any gentle men anywhere then that man from a million millennia ago would have lifted that stone and looked at his brother and thought of blood and bone and said

wait

and dropped the stone.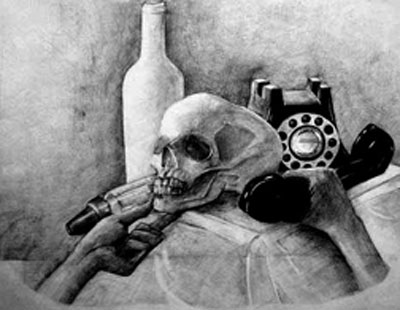 © Xiao H., Naperville, IL