A Letter From Mom
August 11, 2016
The moon was shining. The air was filled with the crisp sent of murky water. Charlie's feet dangled over the edge of the dock, as she looked out across the horizon. It was summertime, a summer she'd never forget. She heard footsteps behind her. A person sat down beside to her. It was her dad.
"Hey kiddo," he said wrapping a blanket around her shoulders, "why are you up so late? You should be in bed."
Charlie looked at him and smiled, "I've missed this old place. We haven't been out here since Mom died."
He nodded in agreement. Her mother loved their lakeside cabin. They'd come down there every summer vacation. Since Charlie's mother died, they stopped coming. It'd been three years before they decided to go back again. Charlie was 17 now and she had just recently began letting go of some of the sadness and grief the death of her mother had left her. Her father still was holding on…
"Charlie," her dad said looking into her eyes, "I have something for you."
He handed her a small envelope with her name written on it with purple ink. Purple was her mother's favorite color. Her mother always wrote letters using her favorite purple ink pen. Charlie's father handed her the letter and looked down at the water. She began to open it gently, making sure not to tear the faded envelope. She uncovered a sheet of lined paper revealing a letter from her mom to her.
My dear Charlie, I knew I'd be leaving you soon since the doctor said there was no hope for me. I wanted to leave you with a little part of me that might help with what you will go through. I want to let you know that I may be gone, but I'm not gone at heart, I'm still looking out for you, I'll always be here for you, and I'll always be your mother, so know that my love will always be with you. My dear, I wanted to see you grow and become the young lady that I've always imagined you to be, but being sick got in the way…
Don't lose hope Charlie, be who you want to be and follow your dreams. Just because I'm not there in the flesh, doesn't mean I can't see you. My spirit will still be watching over you every day. I will miss seeing your beautiful face and your warm smile, and I know you will miss mine. I didn't show this to your father before I sealed it, so it's just between you and me. Make sure he's managing well, alright? And do the same for yourself, you're the woman of the house now so make it count. Whatever happens in your future love, remember what I've always said, "never give up, never give in, and never forget." You're my beautiful girl Charlie and you stay that way, got it? Don't let someone change the way you are. I'm getting tired now, and I need to rest, but please remember my words. I love you my beautiful girl, forever and for always. Love, mom.
Tears began sliding down Charlie's cheeks in hot streams. She'd never missed her so mother much in her life. She longed to feel her warm embrace and smell the sweet scent of her perfume. Tears blurred her vision as she read the letter over and over again.
"Mom…" she whispered gripping the paper tightly.
Suddenly, a warm breeze drifted over her and she imagined the faint sound of her mother's singing. Charlie felt that her mother was still watching over her. She began to sing along with her mother's song. Soon her father was singing too. Under the light of the cool blue moon they sang together feeling the words of the song like it was alive in them, their meaning going deeper than before, hoping that somewhere her mother was singing too. Charlie and her father let go of some of hurt that night, but held onto the sweet memories they had of her mother knowing that one day they'd see each other again.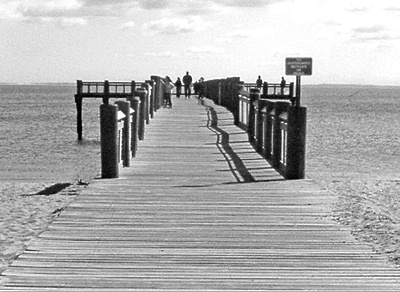 © Kevin F., Milford, CT