I See You
January 28, 2018
It's early morning when I pull into my parking spot at the back of school. You park there too. I know this because I see you as you step out of your black jeep, wearing your varsity jacket. I don't mean to stare, but I can't help it. I see you, hoping you won't see me. I rush out of my car, nearly dropping my coffee cup, just to catch up to you. We talk, I laugh, you smile, I smile. It hurts. It hurts because our smiles don't mean the same. I smile because just the thought of seeing you sends electricity through my veins. You smile because it is polite. We're friends. Friends smile. You've been smiling like that for a year now, ever since we became friends. I've been smiling since the first day I saw you.

I go through first and second period getting no work done because all I do is snapchat you. When I see your name appear on my screen I can't help but grin. We snapchat everyday, all day. You don't know it, but you are my best friend on snapchat. I'd be embarrassed if you knew, but I wouldn't want it to be anyone else.

The bell for third period rings, but I don't sprint out of class like the rest. I wait 48 seconds. The 48 seconds it takes for you to walk from your class to mine. Right as you pass the door I come out. I see you and my body is numb. I see her. Her, with the long chestnut hair. Her, with the tan skin and bright smile. I didn't expect to see you with her. All I wanted was to see you, not her. It is the first time in 3 months that we didn't walk to third period together. I walked behind you, without even a simple hello, though you knew I was there. I guess it didn't matter. It didn't matter, because I'm not her. I have short hair. It's that awkward color between brown and blonde. My skin isn't sun kissed. My smile doesn't shine like i'm in a Colgate commercial.

It has been a week now. I see you, but you don't see me anymore. You don't smile anymore. Your name doesn't pop up on my phone. I don't wait 48 seconds to leave class. You only see her.

Another week goes by. I don't see you anymore. I get to school 30 minutes early because you won't be there yet. I walk down a different hallway to get to my third period. It hurts not seeing you. But i'd rather not see you at all than see you see her.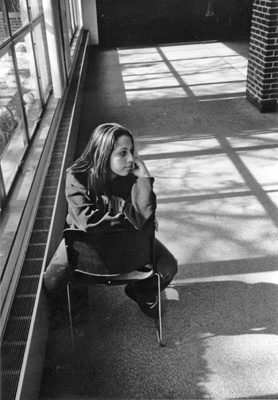 © Leighann E., Westport, MA