The King of Lamoria
July 1, 2009
CHAPTER TWO

"Peter we need to do something about this." "If you don't give the palens what they want than you'll be starting a war." "I appreciate you being my royal advisor Philip." "But I'm not going to give king Kevin almost all of our crops for his people." "We barely have enough food to feed ourselves." "He's greedy Philip he also wants our land." "And I will never give him what he wants." "So you're saying that you want to start a war." "I'm not saying I want to I just don't have a choice." They were talking in the room where Peter had all of his meetings. There was a huge table and a lot of paper work. The chairs they were sitting on each had a red canary carved into them. That was the symbol of the country. Peter got up and said,"I think we are done with this meeting." "I need to get ready for my wedding now." "Next week I want a meeting with all my generals." "Sir,don't you think this is a bad time to get married?" "No I think this is the perfect time to get married." "This war could go on for months even years." 'I don't want to wait that long." 'I would love to have someone to spend the rest of my life with." 'Sir,you don't even know this girl." "It doesn't matter if I don't know her."I believe this is one of the best choices I've ever made." "Morcia is my best Ali" "If I marry her my relationship with king Eric will be even stronger." "I refuse to discuss this any further."

He went into the kitchen. "Katie is the cake done yet?" "The chef answered, yes I have finally finished it." 'It looks lovely I'm glad you put two canaries on it." "They make it look even more spectacular." He walked out and went into the room which was where he was going to get married. He was so happy that all the decorations were up. He had to keep on telling himself that he was going to be married in two hours. The only person he really trusted was his royal advisor. He couldn't believe that he was really getting married. He walked out to the library and started reading a book. Reading has helped him to remain calm. "Sir, we have been looking for you everywhere." "I'm sorry Philip I was nervous so I went in here to calm myself." "I guess I should get ready now." He went to his bedroom to get dressed. Then he walked quickly to the throne room. And took his stand by the priest. All he had to do now was to wait for the bride.

He thought she was gorgeous. Her white gown with red roses on it. Her curly hair that was so long it had to be clipped back. She stopped walking and looked at him. She thought he was quite handsome. His hair was short and light brown. She thought it looked like the sand on the beach. His robes were red and white. "Do you Peter take this woman to have and to hold until death do you part?" "I do" "Do you Tara take this man to have and to hold until death do you part?" "I do" "You may now kiss the bride." They gave each other a small quick kiss. Then they walked down the aisle together. And went into the small carriage that was waiting outside for them.

"Where are we going?" "Peter replied,to a cottage it's not far from here." She stepped out of the carriage as it stopped. She couldn't believe what she saw. There were trees all around her. And there was a lake that had the sun's glow painted on it. The cottage looked very enchanting with the flowers planted all around it. "You never told me how pretty this place is." "You never asked about it." They went into the cottage. There was a living room,a kitchen,a bathroom,and one bedroom. Both of them sat on the couch. "I have the whole evening planed out for us." "We're going to go on a picnic by the lake." "Tara replied, I' haven't been on a picnic for years." "Then this should be fun for you." "I packed everything we need in this basket." He picked it up and asked,"are you ready to go now?" "Yes I'm ready."

They stepped out of the cottage and walked towards the lake. Peter set a blanket on the grass. So they could have something to sit on while they ate. The weather seemed perfect for a picnic. There was no wind and the sky was clear. They sat down and started eating the sandwiches. "Tell me something about yourself Tara." "There's not that much to tell." I do my lessons and read everyday." "I suppose you feel trapped,since you're always stuck inside." "Yes I do" I've always wanted to travel the world." "I already have." What was it like?" "It was wonderful until my parents died." "I was only fifteen when it happened." "We were in China at the time." "I was in my room reading a book." "I heard screams so I went out." "I ran into the study,there was a tall man holding a gun with a mask on his face." "I saw my parents lying dead on the floor." "He said he had to kill me too." "Because I was the last air to the throne." "He was about to shoot me." But I ran to yhe bathroom and locked the door." "I escaped through the window and left on a ship to get here." "The last King who ruled here was my dad's brother." "My Dad didn't like staying in one place." So he decided to become a writer and travel the world." "That must have been hard for you." "My mom died after I was born." "A year later my dad got married again." "He has seven wives and eight children now." "And I thought my life was bad." "I can't even imagine how you must feel right now." "We better go inside now it's getting dark."

They packed everything up and walked back to the cottage. "I'm going to read for a bit." "You can read too if you'd like." " Tara replied, I can never stop reading." They sat on the couch and started to read. "What kind of books do you like Tara?" "Fantasy and fiction" "I love reading those books too." "My dad wrote those kind of books." They kept on reading for a few minutes. Peter got up and said,"it's getting late I'm going to get ready for bed." "You don't have to undress with me." "You can get dressed in the bathroom if you want to." She opened her suitcase and took out her nightgown and went to the bathroom to get dressed. After she got dressed, she heard Peter's voice. "Come and lie next to me." She walked to the bedroom. She saw Peter lying on a queen size bed. She laid next to him and waited for him to fall asleep. It was two hours until he finally fell asleep. Tara got out of bed and packed her things and left. She couldn't spend the rest of her life with a man she didn't even love. She started running into the woods. She didn't know where she was going. But she just kept on running.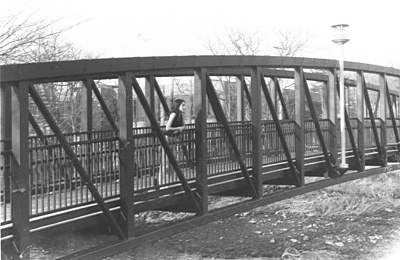 © Kim L., Milford, CT