it happened again tonight
August 8, 2009
as my heart races, anticipating your response, i breathe in-every bit ready to say aloud how i feel inside. and yet, as i look into your eyes, breathing deeply to calm my nerves, my throat goes dry.

an invisible wall appears. a sound proof bubble to which i can not get to you.

all that i want you to know. all that i feel within. three simple words, to describe the most beautiful unexplainable feeling of all. i want you to know how much i stand behind these 'simple' words. i want you to know how it's not just a phrase spoken for the sake of saying it. this is not the idea of them.

the essence of the thought. the terrifying pleasure of being with you. the greatest despair one can endeavor at times of misunderstandings. miscommunications. confusion. the smiles and laughter at nothing and everything all at the same time. the shivers with the slightest graze of the fingers. no words possible to describe the softest brush of the lips. the littlest of things mean most of all. the smallest surprise. the tiniest thought. the minutest memory made.

through all these things, speaking aloud does not seem like enough. speaking aloud would not account for all the reasoning behind each emotion. the power possessed within. described by just three small words. i have yet to know how this can be.

so tell me then, what will you do? when i finally find the courage to say aloud:

i love you.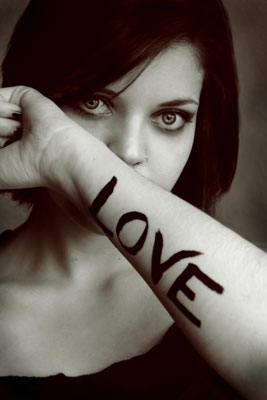 © Michelle B., Blairsville, GA