Do you remember?
November 19, 2009
Do You Remember?

We walked into the gym, Sierra and I. I saw him, over be the hoops. Every time I looked in his eyes, I melted. There was something different about him. He was definitely unique. She saw me looking at him, and the next words out of her mouth were surprising to me actually. "You really like this guy, I can tell. Are you gonna go over there or what. You have been doing this for a week now."
I knew what she meant. She wanted me to go over there and ask him out. I really didn't know him I realize now. I wish I would've looked at her and said no, but my heart got a hold of my mind and choked it out. I picked up my feet and slowly moved toward him. Once or twice I thought of turning around. I told my feet to keep going, and they listened. As a slowly walked across the gym, I recited my lines in my head. I didn't want to be too pushy, yet not too shy. "Hey, Christian, umm... I have a question. Would you like to go out with me?" I was secretly crossing my fingers and praying that he would say yes. A very big mistake. Yes made it all worse.
The next 2 weeks were the best I had ever had. We talked and laughed together. I remember the first time he ever said 'I love you'. Man, was he lying. I remember that every time he looked at me, my heart pounded. Same with every time he touched me.
It was after lunch on a Thursday. There was supposed to be a dance at 3:00 that afternoon, but because the 8th graders had a football game, they just did the dance after lunch. I walked into the gym with my friends, and we went over and stood against the wall. I looked around and didn't see him, so I just stood there. As I turned to my left, where my friend Shyanna was supposed be standing. I looked over at Sierra who was grimacing. "Where did she go?" Still grimacing she answered "To go get Christian"
Just then He walked in. My heart dropped and he ran over to me. Slickly, he asked if I would mind dancing with him. We walked together out towards the middle of the floor. He grabbed my waist and I lightly put my hand on his shoulder. I could hear hooting in the background as his and my friends watched us slow danced. "So what's this I hear about you going to home school or something?" Crud, I hadn't wanted him to know yet. "Oh yeah, my mom says she might make me go to home school next year." That was the end of that. The next day I was broken hearted and sick to my stomach. Friends gathered around me from the time I walked in that door, to the time I loaded the bus. Even after that calls came from 2 till 9 in the evening. I never completely recovered either. Christian was truly my first love. I have never had one since.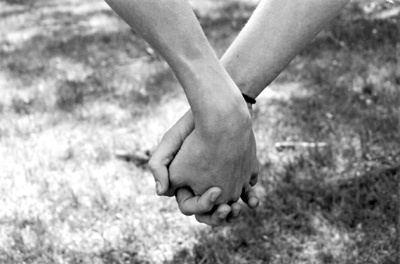 © Alexa T., Pompton Plains, NJ