Emmet and Sky
November 3, 2008
His shaded eyes casted an aura of mystery about him, and with the beat-up leather jacket one might pin him as "The bad boy" but Sky knew better.
It began with a glance, then a smile
Soon they were talking. His name was Emmet and he had a secret, one that would tear them apart.
Sky was pretty and popular so naturally they couldnt be together
but they were in love.
He wanted her so badly sometimes he cried.
She new two things, He was "the one" and he would eventually become her undoing.
Everyday he told himself he would tell her and yet everytime he was about to, she sealed his lips with a flourish of kisses.
He had done it.
He had killed a man. he had killed Sky's brother three years earlier.
He battled with his inner voices, trying to silence the madness.
They were together always but the guilt still over came him.
"Sky?" he asked one quiet night alone.
She turned to him and said "yeah?"
He took a breath and let the story unfurl it self.
Sky stood shocked.
the only sound in the room came from the distant ringing of Emmets Cell phone.

"Sky?" Emmet pulled his shirt on.

"I am sorry I didnt tell you sooner"
She simply sat back on the bed and said "Just go Emmet"...
something deep in his heart snapped and he knew this would be the last time he ever saw Sky.
"Baby, I love you and I am so so sorry.
He leaned over and kissed her softly and tasted her pain and tears.
That night Emmet stared at the swirling water below him, as Sky had her finel conversation with a knife.
last breaths, lost love, love made,love found, Tears shead.
Searing pain and desprate pleas.
Want.
Love.
and Death are what and who Sky and Emmet are.
peace.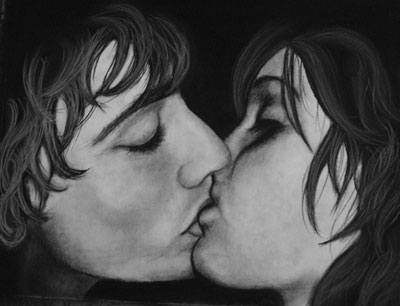 © Anna Y., St. Robert, MO