Our Summer-Chapter 6- Letters To Tony
December 25, 2009
June was coming to an end, and the days were heating up. But I dreaded the date of June 28th, it was the day Tony was going away on vacation and wouldn't be back 'till July 7th. We still spent time together; trying to hold on to every second we had left together. Sure, it wasn't like he was leaving forever and we would be together on my birthday, but I always hated when he & Sylvia left to the beaches of Italy. The day of Tony's departure came despite all of my wishing. There was a sun shower as we said our goodbyes on my front lawn. We embraced for what seemed like an hour.
"Promise you won't go falling for some Italian girl,ok?"
He laughed and gave me a sweet peck on the cheek,
"Italian girls are beautiful, but MY Texas girl is a goddess in comparison."
I kissed him then, with salt water running down my cheeks. I couldn't tell if it was from the light drizzle, or my tears. We let go, and he trotted to the car & drove out of sight with Sylvia & him waving until they were just a speck down the street. I didn't know how long I stood on my lawn waving after them, but it might as well have been forever. I knew I was being ridiculous, and I didn't need a man to complete me, but that's harder to believe when that boy happens to be, not only your true love, but your best friend. I looked up to realize that the sky that had just been a drizzling sunshower, was now dark & a full-blowen summer strom was on its way.

A few days later, or maybe it was weeks, I lost track of all time, a letter from Isle of Capri . It was from Tony! I tore it open and dashed to my room. The letter smelt of his Abercrombie & Fitch cologne mixed with an ocean breeze.

Dear Summer,
Italy is truly AMAZING! I think of you with every beach I go to, and how much you are going to love it here when we take you for your 16th birthday! Sylvia misses you like crazy (as usual), don't worry, I miss you the most of course. The family here are dying to meet the "bella ragazza che ha rubato nostro Tony's cuore!" which means, if you've been slacking on your Italian lessons, "the pretty girl who stole our Tony's heart!" Sylvia has already shown them pictures, grandma hung it on the wall & introduces it as "a picture of Tony's future wife"! Ha-ha. Its true, you have stolen my heart, and I told everyone you'd be in Italy soon. Start practicing! They don't speck English! But no matter what language you speck, they'll love you because who wouldn't? I can't wait to get home, although Italy is beautiful, I'd trade anything to go back home to you.
Ciao mia bella ragazza!
-Tony

The letter was short, but by the end, my heart was full & there were tears in my smile. I sat to begin my letter back. I sat to begin writing at my desk.

Dear Tony,

A loud chripping intrupted my thoughts. I looked up to see the bluebird waiting in her nest for her love to come bring breckfest. I smiled as I realized the rain had stopped, and the clouds were beginning to clear.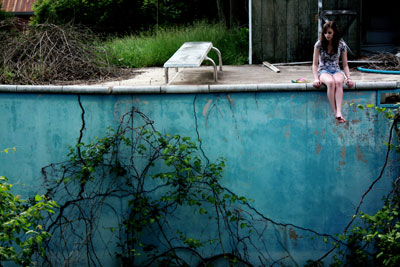 © Myra K.