Our Summer-Chapter 8- First Date
January 21, 2010
The balance of the universe seemed to be back in order, the Devitos' were home, Tony, LuLu, Rob, Sylvia, and I hung out almost every day, and I never took off my beautiful little necklace except to shower. The days following the 4th of July were just a happy bliss. But, as everyone else pointed out daily, Tony & I hadn't had our 1st REAL date yet. It didn't really matter too much to me though; we hung out WAY more than most couples who went out on real dates did. But, I still wanted to have my first date & Tony was the perfect 1st. Besides, if we didn't have a real date soon, wouldn't that make us still "just friends"? Or technically "friends with benefits" since we kissed & stuff. I guess Tony felt the same way, because one day as we were all walking around Town Street (which is where there's all the little restaurants & shops where middle-school kids hangout) Tony brought it up.
"Did you notice we don't actually DATE? We only really hang out with Rob, and Lu, and my sister?"
"Gee, I don't feel under-appreciated at ALL now." laughed LuLu lifting her head from Rob's shoulder.
"It's okay Lu," commented Sylvia finally looking up from her cell phone, "We're ALL under-appreciated." I laughed and used my free arm to side-ways hug LuLu & Sylvia.
"If ya'll," Rob added copying Lulu's love for the word ya'll, "feel so over-crowded with us, then why not go on your 1st date already?!"
Tony & I looked at each other (God I will NEVER stop loving to look into those gorgeous blue eyes!)
"Well Summer," Tony said getting down on one knee, "Would you join me on a date, tomorrow night, which just happens to be July 13th, your 13th birthday?"
Everyone laughed as I sat on Tony's knee, "Yes! I do!" I replied before kissing him on the cheek.
"Awesome! We better get going." He said picking me up & carrying me away before setting me down 3 blocks later. What he didn't know was that even after he'd set me down, he was still holding my heart.

The next night was just like the night me, Sylvia, and LuLu were getting ready for Dana's party. Only this time, they weren't getting themselves ready at all, they had to leave as soon as I was done, and they would not tell me where on Earth I was going tonight.
"Just 1 hint?" I begged for the 1,000th time as Sylvia began taking out the curlers.
"Summer! I already GAVE you a hint! You need to dress nice for it & its close by." Sylvia laughed as she undid the last curler.
"Ok, but something a LITTLE better than that?!" I begged using my best puppy dog eyes as LuLu & she started towards the door.
"Bye Summer!" they chorused before running out of my room.
They were up to something, it was just slightly obvious.
"They would arrange my wedding without telling me if they could." I said to myself before leaving my room & descending down the stairs.

I grabbed my tiny purse from the table in the front hallway, just in case I needed any makeup or money. I gave myself one final inspection before heading out. My sandy-blonde hair was now more blonde then sandy and was curled & in a crown style. My summer dress was elegant yet casual. It was a white sundress with little pink cherry blossoms scattered across and the skirt reached my knee but poofed up just slightly. I opened the door to find my Tony standing there with his hand raised like he was just about to knock on the door.
"I think you might be physic." I said giggling as I closed the door. The night air was cool and the stars glittered overhead like Christmas lights. Beneath the full moon, Tony's hair glowed blonde and he was dressed in a black tux like it was our wedding day.
"What do you think?" Tony asked holding out the jacket. "Too much?"
"No!" I laughed. "You're perfect."
"And you're beautiful." he said kissing me gently
He led me out onto the street curb where his bike was and fake-opened a door pretending it was a car. He got on as I sat on back.
"Sweet ride huh?" he joked as he began to pedal down the street.
"Totally," I laughed. "Tony, where are we going?" I asked not being able to handle the suspense much longer.
"It's a surprise." He replied simply.
We rode through the streets we'd loved our whole lives, but at night, they seemed glamorous. Dana's lake shone with crystal perfection, and the lights of Town Street looked more like Rockefeller center light's at Christmastime. He stopped on an un-familiar street. It was quiet and the only sound heard throughout was mine & Tony's breathing.
"Tony, where-?"
"Put this on." Tony said smiling holding a blind fold that said BIRTHDAY GIRL in pink letters.
"Why?"
"Our date is a surprise."
I put the blindfold on and gripped onto Tony's back as we set off down a road. After what felt like a million twists and turns, we finally stopped.
"Can I take this off now?" I asked anxiously.
"Almost."
Tony led me through the soft grass, and even through the blindfold I could see the beautiful twinkling lights.
"Okay! Ready? 1, 2, 3. Happy Birthday Summer." Tony whispered removing the blind-fold.
I opened my eyes, and gasped.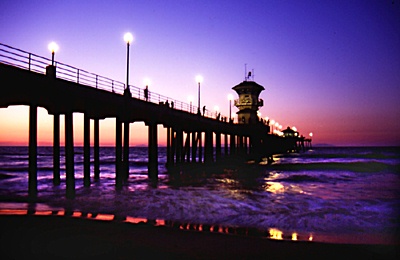 © Cherry L., Cerritos, CA