Could Be
February 14, 2010
We should get jerseys
Cause we're makin the team
The song spun through my mind on a constant loop…
But yours would look better than mine
Cause you're out of my league
When he puts him arm around me I start shaking…
People are watching us…walk up the hill and far away…alone… His arm is around my shoulder. I'm his and everyone knows.
It's late…I'm wrapped in a blanket of distant pounding music, his arms, and silver-white stars…
Now I mean
YOU
Crank that soulja boy
I've climbed these hills almost every day since I learned to walk…trudged through snow dragging a heavy plastic sled behind me…wind biting my cheeks…rolled to the bottom in a blue cotton dress…
You catch me at your local party yes I crank it every day
I rest my head on his shoulder…nice… He rubs my bare arms so I don't feel cold.
I push his hand away so he doesn't feel the eczema.
"Don't touch my arms. They're gross." I throw in a giggle so he's not too disgusted but he runs his fingers down my arm, "No, they're perfect."
And he leans in…and puts his lips…right on mine.
And then his mouth is open and his tongue is in my mouth. His wet, too sweet tongue feels like a sponge soaked in maple syrup against mine but maybe this is how it's supposed to be. It doesn't matter…kissing…he likes me…
After a few minutes he stops.
Just like that. He stops...and we sit…his arm around me…for a long time.
And we talk. His sister is autistic. So is my aunt. He's from California and he misses it. How can I stand this cold? It's September and he's freezing. I grew up here. It's all I know…these hills…the chill of early fall.
I've never been to California. I'll probably go visit…stay in his guest room…meet his mom and dad…he can teach me how to surf. He'll introduce me as his girlfriend... He's not most boys. He puts his arm around me. He just wants to kiss me and talk. Just kiss and talk…
He walks me back to my friends' dorm and I burst through the door. I'm important …my face still glittery with makeup…my tights ripped from too much dancing…they've already showered…crawled into bed.
It was…it was wonderful…it was perfect…I have to go my mom is waiting.
How long have you known this boy?
Two weeks but what does that matter…he likes me…
Ok.
Why?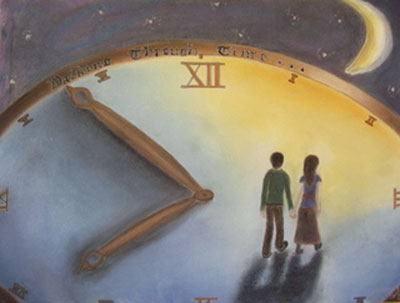 © Carollynn G., Hawthorne, NY