Smile Sweetheart ch. 6
February 23, 2010
Nick turned the car off and sat there looking at me with a nervous look. It was probably a death sentence walking into that house, but I would have to at some point. My parents had gotten a divorce three years ago because of my dad's drinking and smoking addiction, and my mom didn't want Gina and me to be in that type of environment. He visited only in desperate times, and my mom must have scared the living daylights out of him to get him to come, heaven knows what she told him.
"Can you come with me?" I asked.
"Of course, Morgan. I'll always have your back."
We got out of the car and walked hand in hand to the house. I stopped in front of the door, took a deep breath, and then pushed the door open.
"Morgan? Is that you honey?" my mom's shrill voice cane from the kitchen.
"That girl is dead meat," my dad's husky voice hissed.
I walked to the kitchen, and saw my dad leaning against the counter, unhappily. My mom was drinking a cup of coffee. She immediately spit out whatever she had just drank when she saw Nick.
"Where the hell were you?" my dad's voice boomed.
"John, keep your voice down, Gina just fell asleep!" my mom hissed, placing the cup down in a hurry and rushed to me in a bear hug; Nick backed away so she could embrace me.
"Who is this, Morgan? And what are you wearing?" she asked accusingly.
"Umm… that is my friend Nick. I'm wearing one of his sister's dresses," I said hiding my face in her shoulder to avoid my dad's beady glare.
"What were you and my daughter doing, punk?" my dad growled in Nick's face. I pulled myself away from my mom to shove myself in between the two of them.
My dad reeked of tobacco and alcohol, and his white Harley Davidson t-shirt was sweat stained everywhere; his faded jeans were in no better condition with huge, shredded holes in the knees. The two of them couldn't look any more different. I pushed against his chest to back him away, unsuccessfully.
"Morgan, I can go. I didn't mean to cause any trouble for you, sorry." His eyes were pitied.
"So you were with this kid all day? Skipping school even?" my dad accused.
"How did you find out about that?" I asked momentarily frozen.
"The principal called me. He said you weren't at school the entire day. It worried me sick!" my mom said intervening. C***.
"So what did you two do, besides the obvious?"
"We hung out at my house," Nick replied.
"And what did you do there?" he continued to question, eyes narrowing.
"Stuff," I interjected tersely, locking my jaw, and giving him a look of sheer hate. He looked surprised at my hostile expression for a second, but recollected himself and returned my glare.
"You can leave this house young man, she's home safely and there will be no need for you for the rest of the night."
"Sorry for the inconvience I put you through Mr. and Mrs. Hoffman. I really hope I can still be allowed to see Morgan, though. She makes me happy, and I think I make her happy, too."
"Yeah, yeah…" my dad grumbled, shoving Nick to the door.
"John, cut it out!" my mom growled harshly and gave Nick an apologetic look. "I'm going to need to get to know you better first, honey. But when I feel comfortable with you around my daughter, you can be with her for as long as you'd like. She could use some friends. With the move and all, she lost interest in socialism."
Nick smiled, "Thank you very much. Good night Morgan."
"Night," I whispered from behind my dad's flexed arm, who eyed the two of us with a disgusted look. As Nick walked out the door, my dad slammed it behind him.
"Dad, you are such a jerk!" I screamed, punching him in the arm as hard I possibly could. As my hand was pulling away from the impact, he snatched my wrist and slapped me in the face with as much force as I had hit him.
"Don't be disrespectful! I'll put you in your place, you little brat!" he hissed, breathing his stench in my tear streaked face.
"Let go of her now, John. Before I call the police!" my mom said franticly, the hysterics rising every moment his glare was on her. He threw my arm back at me, straightened up, and snatched his keys from the table.
"Nice seeing you all," he said gruffly, not meaning a word he spoke, and then slammed the door behind him. I stared at the door, my wrist throbbing and tears falling off my cheeks. After a few seconds, I broke down into hysterics. My mom immediately rushed to my side and let me lay there in her arms, sobbing. She stoked my hair, and eventually my sobs turned into muffled hiccups and sniffles.
"I'm so very sorry about him, honey," she said laying her head on top of mine in a mangled hug. I just laid there, numb. I hated John. I couldn't even think of him as a dad, he was more Satan than a father.
"I'm going to bed. I'm sorry for not saying I was going to Nick's house," I mumbled untangling myself from her thin arms, and dragged my feet down the hall and into my room. I didn't even bother to change, throwing myself onto the bed. I would probably get cold through the night without any covers on, but I was too numb to do anything about it. I eventually fell asleep feeling nothing and dreaming nothing.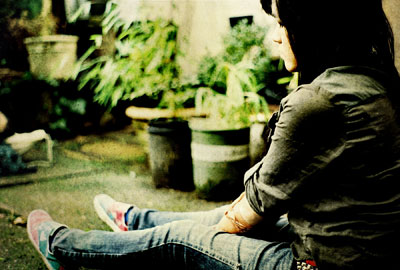 © Hailey J., Lake Oswego, OR