It may backfire but it's worth a try.
March 5, 2010
I can't help it. Every time I see you, I feel a sudden rush of emotions and I hate it.
It's the most emotion I've ever felt, condensed into a second of… well, it changes.
Sometimes it's anger. Sometimes I look at you and I hate you and I want to make you feel pain like I've felt.
Sometimes it's admiration. I look at the way your lips are full and pink, but still look masculine combined with the way your cheekbones – I'm getting off track here, I can't allow myself to think of you that way.
Like I said, my emotions for you change, but only because of what you do.
You don't talk to me. Not anymore. You don't seem to want to talk to me either. But you still look at me, with strange looks that give me hope.
And then you take it away again within seconds, the moment your eyes leave mine.
Sometimes I look at you and I want you to be with me, sometimes I just want you to leave me alone.
But I never feel good when I look at you. Not anymore.
You cause me so much pain, and you probably don't even realise it.
Don't even realise how much I think of you – constantly.
Or you do realise and you're just a really bad guy.

I've spent too much time thinking about all your good things. When I go onto thinking about the bad things, I can only think of the pain you've caused me.
And then I think. 'Well even that was unintentional.'
But was it, was it really?
But my heart always wins the fight against my mind and says that it was.
So I'm going to try coming in from a different tactic.
I've tried too many things.
It's like dieting – going without something, or at least trying to loosen the grip, that that thing you want so much has on you.
I've tried so many different diets:
I've tried ignoring you, but then you say one word and I melt inside.
I've tried making you jealous, but then you do the same and it backfires and makes me feel even worse.
I've tried talking to you more but I start to realise, or imagine, that you don't want me there.
I've tried hating you but all of sudden you look at me and my heart feels like it's being revived and it jumps into action and starts racing against my blood, and before I know it I'm going into shock.
And each time, my addiction is brought back, stronger, from it's temporary death, and it has mutated; grown resistant to the tactics I once tried that used to hold it captive.
So now I'm just going to try something that will probably be worse than all the others.
It will probably hurt me even more than the rest, make me feel each little stab of pain every time I look at you, that much worse.
But what else have I got left? There is no other option. I've ran out. You've weakened me.

I'm going to let myself love you.
It's like when I tried meditating once, when I tried yoga – if a thought came into your head, don't stop it from entering, let it appear, then let it go. And that did work a lot of the time for me. So hopefully it will work now.
I'm going to allow myself to feel a rush of excitement every time my eyes meet yours, but then I'll look away. I'm going to feel you staring at me from the corner of my eye, and then focus on what I should be focusing on. I'm going to hear your voice, then gradually fill my head with the other people's voices around me; I'm not going to let your voice control my thoughts anymore. I'm going to see you talk to other girls, feel a sadness and a pain that shocks my bones and makes me want to curl into a ball and cry, and then I'll look around me at the friends I should be laughing with, at the other people in my life that don't hurt me like you do.

It's going to be hard, and it will probably backfire, but it's worth a try.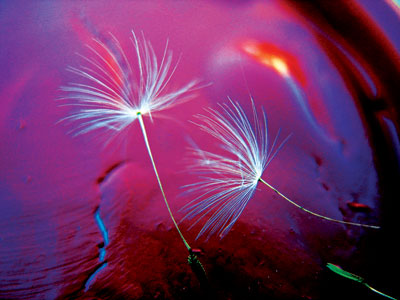 © Jamie R., Boulder, CO