Last Chance at Salvation
May 3, 2010
Desperation surged through my veins. This is my last chance. Why can't she realize we belong together? I stand outside her house- panting. I need her. She has her boyfriend. I have nobody. I see her with him- feigning happiness. She could be happy with me. I am nobody.

The spray-paint can weighs heavily in my hand. Juliet. Her radiance outshines the sun. She is an artist like me, but caged behind her makeup and pom-poms. Her boyfriend uses her. He cheats on her. He beats her. She loves him. She doesn't know any better. She thinks that he is the best she deserves. Juliet, I'm here to tell you that you deserve more.

I raise the paint can- ready to aim. This is my last chance. Her locker is exactly three from mine. I always see her during passing period. Some days the only reason I even bother going to school is to see her stunning face with the happiness skimming the surface. I could make her happiness break through.
One time her boyfriend ran into me and said, "Sorry chick. Oh- my bad man. Can't blame me though- with long hair like that." He chuckled then swaggered away. I looked helplessly at my mid-elbow length straight black hair. It used to be my pride and joy but now it lies limp compared to that Jerk's bouncy short football player hair. I will always be an outsider.
Juliet gave me an apologetic look then whispered, "Damian, I personally think your hair is sexy." She smiled her gorgeous half smile then stuck her tongue out in the Jerk's direction. I knew from that moment- I loved her.
In art class I always glance over at her sketch pad. She usually draws birds in cages. Birds limping out of cages. Birds caught in someone's hand. She's that caged bird. Her future is limited with that Jerk. Some days she comes to class with a black eye or a bruise on her arm. Those are the days that I write little notes to make her feel better, but I know as long as she's with him she'll never feel better. My notes are like giving aspirin to someone with cancer; it heals the symptoms for a bit but the problem is still there.
I watch Juliet and the Jerk from across the street in front of a recently foreclosed house. I see them through the living room window. They are sitting on the sofa- their backs to me. They are watching a movie. He tries to kiss her. She pushes him away. He pulls her closer. She yanks free. He curses. She yells. He slaps her. She's on the floor. He kicks her. He picks up his coat and leaves. She's on the floor. I'm across the street. She's on the floor.
One last chance. For me. For her. To save me. To save her. One last chance. I turn around. Aiming the paint can at the abandoned house I write one last note. The spray paint glides smoothly and reveals my heart's desire. Run Away with me. We both need to run away. From an abusive boyfriend. From a society that doesn't accept us. From heartbreak. From hardship. From the future. Together we can create our own. I Love You. He doesn't appreciate you. I do. He likes you for your body. I love you for your creative mind. I love you for your captivating personality. I love you for your ravishing smile I never see enough of. He hits you. I would cut off my arm before I hurt you. He calls you a b****. I would call you a goddess. I'm black skinny jeans while you're pink chiffon lace, but I believe we'd make a perfect match. If only you would run away with me- I love you.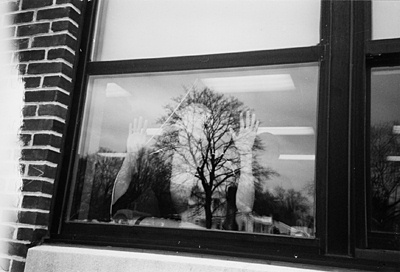 © Kaleigh W., Pompton Plains, NJ