chapter five: milky way
May 24, 2010
I remembered many moments- many of our moments. When he first held my hand. When our lips first touched or even when he had first brushed a hair off my face. Everything was memorable. HE was memorable.

I remembered our first meeting. October 30th. Three years ago. I was a freshman. He was a sophomore. It was a time when I was taller than him in heels. People always made fun of him because of it, and then he shot up one foot that summer. Ha. I remember that.

But back to Halloween. Our first meeting. It was funny that day. We were both babysitting. We both ended up at the park. It was night time and we were at a park with two 7 year old boys. These boys happened to be friends so we watched them together. Joshua and Patrick. Those two boys would do everything together. So Aoran and I were together a lot. But that first night Aoran was a newbie.

It was Aoran's first time babysitting his little cousin. The little kid, Patrick hated Aoran, but loved me. That night I got half of Patrick's candy, plus some of Joshua's. Aoran got none. Not from Joshua and especially not from Patrick. Luckily I was nice enough to give him one.

I say one because I gave him ONE. I gave him a mini milky way. He used that line when we were together. One time I was mad at him and he said, "My love for you is as big as the Milky Way." As soon as I remembered I had to forgive him. But he can't use that on me now.

He used the line a lot to tell me that he loved me. Like one time I got mad at him because he was being really paranoid around this new guy named Trey Williams. The guy was to die for and he kept on flirting with me. Aoran turned into a girlfriend hogger and kept me by his side every time he was around. I didn't mind it for awhile. I thought it was cute.

But then he started intentionally kissing me in front of Trey. The third time he did it I got mad and pulled away- right in front of everyone and left. He followed me out and tried to apologize.

"What's your problem?" I yelled at him.

"He's my problem! Trey!"

"So you have to smack your lips onto mine every time he's around?"

"He just needs to know that your mine."

"I don't BELONG to you! I'm not an item you can pick up at Target!" I screamed.

He got defensive. "I didn't mean it that way, Sophie. You know that."

"No; I don't because your too busy owning me that you forgot to specify it." I shot at him.

"Sophie, you know I love you."

"Love me? I'm sorry I thought you owned me- not loved me!" I said. I began to storm away until he pulled me back.

With my wrist in his grasp I couldn't move and he pulled me in and let me cry. He apologized and he said the words I had to believe. "My love for you is as big as the Milky Way and I can't just let you go or give you away. I love you too much." He smiled at my tears and held me close.

Did you love me? Really, Aoran?

"What's going on?" I whispered to myself.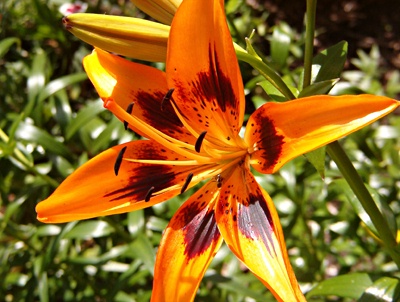 © Terrin C., Humboldt, IA