Love is a Big Word
July 7, 2010
He had a problem- a really big one. I didn't make him fix it. I didn't even fault him at all. I wasn't mad. Not yet.


We'd been going out for a long time and he'd planned a special month anniversary. Guys don't really do this, but my best friend clued him in. She told me that this ones for keeps mainly because this was the first guy that hadn't yet called her the B word.


Jason Harris was the nicest guy I'd ever dated. He was cute with his light brown locks, not to mention kind. One time at school I saw him in the hall helping a girl pick up her books. He didn't even bump into her or had anything to do with the books being on the ground. The girl was there with her books scattered around her and he just came up- like a gentlemen- out of nowhere, bent down and helped her. He played the guitar for me once when I was crying and always asked me how my day was.


I know it sounds like I hit the jackpot, but I didn't. Jason Harris had a problem and I couldn't solve it. It started in April. We'd been going out for five months-ever since the Winter Dance in December. I thought he'd just go to the dance with me, but then he asked me to be his girlfriend. You cannot imagine how happy I was.


Anyway, it was in April and we were walking home together like usual. I couldn't look up at him though. My eyes were stuck on the concrete, and my lips were curled up in an excited smile. He was walking beside me by the curb staring at me.


"What's wrong?" I was usually very talkative and right then I hadn't spoken a word since I said hi to him in front of the school.


"Nothing." I could feel myself blush a nice bright red.


He smiled at my attempt to lie. "What is it?" We stopped walking and he tried to get his eyes to meet mine even though they were purposely avoiding him and LOOKING AWAY. It didn't stop him and I had no choice but to look him in the eyes.


"Tell me."


"I love you."


He stared at me shocked for a couple of seconds, closed his eyes as I watched a shade of pink spread across his cheeks, and he stepped away from me.


"Your mom is probably waiting up on you," his tone was blunt and with no emotion, it felt hurtful. It was like a translated goodbye, but it was something I didn't want to hear. I wanted something more like an "I love you, too" or something corny like "I can't live without you." Anything- he could've said anything, but a translated goodbye. I mean, he couldn't even say it out right.


But that was okay because I loved him enough to wait. He had a problem and I couldn't wait until he fixed it.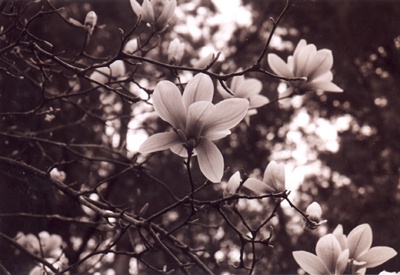 © Laurie T., Hopkinton, MA