the last time
August 17, 2010
Stop. Don't fall for him. I kept watching, kept falling. He was a nice guy; he never ignored you, never said something that he might regret later, he thought first, & cared if he hurt you. Even standing at the flower shop he was carful, but said exactly what he meant. I couldn't stand falling, even for him, I forced myself to remember the last time.

The last time, I got hurt. The last time, I got that big scar down the back of my arm. The last time, I cried for months. It hurt, the thoughts, they hurt, because I could still remember just a little too well, the last time.

He was picking me up from a party .I got in &shut the door. He slammed on the gas. I practically had a heart attack as I scrambled for my seat belt. Scared out of my mind, I looked in his eyes. They where blood shot .I started to cry hysterically, and begged for him to let my out. Somehow we made it to my house. he leaned over for a kiss, but I wasn't staying around to see how that went .I guess I made him mad, because the next thing I knew the blade of his pocket knife was jabbed down the back of my arm. My scram rang through the air. My dad came out with that old 202, that I knew was empty, screamed at him telling him that if he didn't leave that the copes would be called. I was rushed to the hospital; I was put on blood as they stitched my arm up. That night I was scared for life, that night was the last time.

I looked back at the boy at the flower shop still tiring to convince myself not to fall for him. He got me out of my months of tears, but that could change if he turned me down. Last time was an accident. That sealed it last time was an accident & accidents can all ways happen. I walked away, looked back only once just in time to see that boy with one rose, looking for me.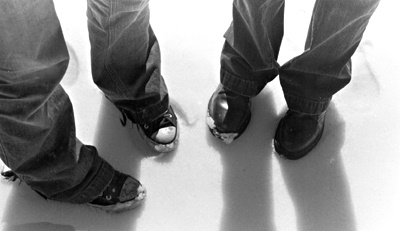 © Elana N., Marblehead, MA