Love or No Love?
August 29, 2010
It was August 25th when I first saw him. He had tan skin, brown eyes, and black hair. He never seemed to talk very much, but I didn't care, I didn't either. We had three classes together. He sat two seats behind me in English, in math we were in ABC order, so he was a little ways away. Then in 5th block, he sat in front of me, four seats in front, but we didn't have assigned seats in that class. His name is Jesse, he's from Mexico, I thought that was cool, cause' I've always wanted to go there. We talked a little here and there, but not very much. Then we started talking more and more, and then he moved to the seat next to me in 5th block. We became pretty good friends and we talked most every day.
I told Jesse pretty much everything, he told me a lot too. He told me who he had a crush on; (actually I guess since he wouldn't tell.) she was the girl who hated (and still does hate) my freaking guts. I didn't care though, he was a good guy and I wouldn't let that come between us. I never told him, but I liked him, when I finally told him it was after I didn't anymore. It just so turns out, he knew, well he figured it out. I have no clue how though, I knew he was smart but I wouldn't have guessed he was like half physcic I guess you could say.
The year was almost over and I was not ready to leave. But like it has to, June 10th came and the year was over. We were moving on to 9th grade and going to two different schools. We talked almost everyday, there was a few day one of us would be busy, but if neither of us were, we'd talk for hours. There was this one night we got into a deep conversation, I told him I liked him again, he told me he liked me, a little, now. We were talking from like 7pm to 11pm.
I wanted to ask him out but I didn't know how. For me, it's not just as simple as saying "Will you go out with me?". I talked to someone and he made me ask Jesse, so I did. Jesse was gonna answer but something came up and so he couldn't. He told me he would tell me tomorrow. We talked for like 5 minutes the next morning but he couldn't talk for long so he said he'd call from 4-6pm. I waited but he never called me, so I started to call him but then hung up. Then he called.
He asked me what I wanted and I told him nothing, except an answer. He sighed and answered me. "It won't work out." He said. "Cause we won't see each other." "I don't care." I told him. "We can work something out, like the old saying, if you don't try you'll never know what could have been." He seemed stuck on us not seeing each other much at all, would make it to where it wouldn't work out. I wasn't sure what else to say. I was heart broken, I felt like crying. I haven't ever cared about anyone more than I care about Jesse. I took everything in, I was not going to let myself cry, I just couldn't.
All I did was listen to songs by my favorite band, and I thought about it all. I thought maybe Jesse is right, but then we can always try. I want to try, I don't want to get old and think back to the guy I loved more than anything, and say, I wonder, if we had just tried, I wonder what would have happened. I don't want to think that. I want to get old and think even though it didn't work out I'm glad we tried or I'm glad we tried, look where it got us. I just don't know what to do. I just know I do love him and I do want to be with him. Even it it's for a week, just to try. That's all I want, I want to try.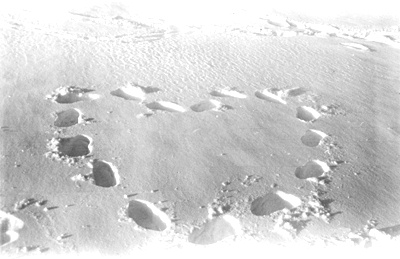 © Kim B., Marblehead, MA