Summer Date
August 21, 2010
As the girl tried her best to gracefully climb back into her car, she had a momentary lapse of mind and admired her wonderful date in the side view mirror. His blond wavy hair and blue eyes shined back at her, and catching her eye, he smiled. This simple display of affection caused her to miss a step and stumble clumsily into the car, and her face flushed crimson as she squeezed her eyes shut and recovered. The immediate next reaction was to look to her date's face, which to her incredible relief was still smiling and he laughed good heartedly at her adorable stumble.

The ride home from the mini golf place was friendly, but there was sexual tension in the air as they both knew the ride would take them back to his house to watch a movie. The first portion of the date had gone smoothly, they golfed, he "assisted" her on the difficult holes, and held hands at every available moment. At the conclusion they bought ice cream and shared a drink, and talked for an eternity about everything from cars to school, to sandals. It wasn't awkward in the least, as the two had been talking to each other for over a year, and this date was the first official move that had been made not over text. As the boy pulled into his driveway, he smiled at his beautiful date and took her hand once more, and they continued to chat leisurely as they walked to his front door. The boy, although he kept his grip strong in the girl's hand, couldn't keep his heart from beating wildly. He cared about this amazing girl more than she would ever understand and had liked her forever before gathering up the courage to eventually ask on a date, to which she readily accepted. Under his medium pressure in her hand he could feel her hand lightly shaking as they walked into his kitchen together. This bit of nervousness made him smile and appreciate the girl further, and he switched his hand placement to lightly rub the palm of her hand. Finally coming out of his thoughts, the boy noticed his mother standing in the kitchen and quickly did basic introductions, and informed his mom that they would be watching movies in the finished basement; she assented, and simply informed him that she would check on them occasionally. As he turned once again toward his date, she smiled warmly, her face not betraying how incredibly nervous she felt on the inside. He took her hand once again and led her down the stairs to the basement. Once there the girl politely asked to use the bathroom and they were at ease as he laughed easily and led her to the door.

Not 10 minutes later, the lights in the room had been dimmed and the two sat comfortably on his couch. They had decided to watch the Crazies, as it had been newly released and there was the silent mutual knowledge that it was a bit scary, and this would require some frightened cuddling. As the movie went on, she relaxed against his arms and he tightened his grip around her shoulder. Although there was blood on the screen, neither of them could feel mildly afraid of the action, they were too focused of what both wanted to happen, but were too petrified to be the initiator of. Both eyes were glued to the screen, yet the boy nervously glanced down at his beautiful date and their eyes met. Suddenly, still staring in his eyes, the girl shifted her position so that she was further in his arms, almost lounging. He realized this, and positioned his arms around her body so that he was wrapped around her. She giggled slightly, and they both began to laugh, as the first step was over. More comfortable with each other, they both returned to the movie, but as before neither could devote any attention to the plot. Unable to any longer restrain himself, he moved his hand slowly but surely closer to her inner thigh. The girl's leg quivered under his touch, and the boy felt this and was empowered by it. Just as he was about to plot his next move, the girl grabbed face lightly, and lifted hers into his for a long kiss. When the two broke apart, the girl was beaming and he was still in blissful shock. They kissed again, and then again, and then they both decided that the party wouldn't be complete if their tongues weren't involved.

An hour later, the girl thanked her date's mother and the two climbed back into his car in a state of euphoria. Her lips were tingling as much as the rest of her body was, despite clothes having been kept on the entire time. They talked amicably on the ride back to the girl's house, and soon enough they pulled into her driveway at a cool 1015. Before either of the doors were unlocked, the two simply stared at each other and appreciated how magical the night was. The exited his car and the boy walked his perfect date to the door. She took out her keys and jiggled them into the door, and he kissed her lightly on the mouth goodbye. As the girl walked into her house and plopped down on her couch where her mother was reading, she began giving vague descriptions of how her date went and how ecstatic she was, when she felt a sudden vibration in her jeans pocket. Looking down at her phone, expecting to see the name of one of her curious friends, she was presently surprised to see the name belong to none other than her date, causing a flutter in the pit of her stomach. The girl let out a scream of excitement, causing her mother began to laugh as she watched her 16 year old daughter jump up and down on the couch, her phone flying away from her, and coming to a crash on the floor, the text of "you wanna be my girlfriend" echoing of the walls of the otherwise quiet house.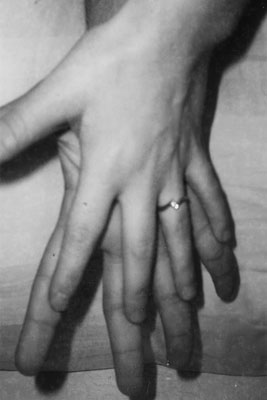 © Heather H., Phoenix, AZ