Niklas and Jessica
November 10, 2010
"YOU WHAT!" my best friend katy screamed in my face.
"i couldnt help it, he was so nice."
"And so not your type, your getting into my territory now."
"i know, im sorry. I just couldnt stop it. His hair was just long enough for me to run my fingers through. His gray eyes, i swear to you they were gray." "im sure they were, and his hair was probably dark brown. His skin was probably carmal and cream."
I nodded guiltily, i was falling for the guy of katy's dreams. She hadnt even met him but as far as she was concerned he was hers. "He is really nice, he's from Brazil to. But his accent almost doesnt even exist."
"Whatever, i cant change what you did last night. Did you go home with him to? Or did you just make out on the beach?" Her jealousy made me smile, she was all the way in Albany. She couldnt do a thing about it.
just to tease her i said "We just made out on the beach, and you could see all the stars. It was amazing." She sighed "I'm gonna go and hope you find his twin for me. Have fun in Deleware." She seemed to have no idea what Deleware was like.
The beachs smelt awful, and it was always cold. I wasnt having much fun until i ran into Niklas. He introduced himself as Nick. I was in the middle of attempting to learn french in an hour at Barns & Noble.
"Excusez-moi Mlle, mais je ne pense pas qui fera." I looked up and saw the speaker. "Tu parle anglais?" i asked with a bad accent. "No i do not speak english, you just speak fluent french. See you can understand every word i say." He spoke in perfect english, blushing i stood up to shake his hand. "Im Jessica Lenard, and i admit i slept through every single french class this semester."
He laughed loudly his shoulders shaking. "Im Nick Clarke, and i speak fluent french because my tutor was french." I smiled intrigued. We talked for about an hour before we left to go to Panara Bread.
Everythign happened so quickly. We were eating soup from sourdough bread bowls. Then we were sitting in my car kissing. Then... all in all it was a great night. We are going to meet up again in a few weeks.
Three Years Later...
Little maria wobbled across the floor to Nick smiling. He held a peanut butter cookie in one hand and her bear ni the other. I looked down at my hand and smiled at the ring on my left finger. Our son Jason was sleeping next to our dog.
We got lucky with him, he never woke in the middle of the night. He was a very well behaved as todlers go. He just turned two a few weeks earlier.
Maria was now sitting on the floor eating her cookie and hugging the bear. I was worried she would never give the thing up, but she was only one so you never know. Nick picked up Jason and i picked up sqirming Maria and we put them in bed.
After reading Goodnight Moon multiple times jason fell back asleep and Maria was snoring. We snuck to our bedroom and get ready for bed. I thought about our children with a large smile on my face.
Jason was the product of two months of love and Maria was the product of our first anniversary.
I smiled thinking about our first months as a married couple. I was nearing six months pregnant and he had just graduated from MIT. Katy was furious and still said i married her dream man.
I tried to convince her that Nick wasnt perfect. She never would believe me. I was married to him and i still thought he was perfect. Being a catholic when i told him i was pregnant he proposed. No child of his would be born out of wedlock. He came up behind me and held me close. He kissed my neck and pulled me to bed.
I woke up at four with the incredible urge to go. I ran to the bathroom and then reached into the medicine cabinet. I pulled out the stick and followed the instructins. I knew the results before i read the test strip saying +. I was pregnant again, this baby was the result of a second birthday.
I waited for Nick to wake up then i laid the test on the counter. I went downstairs to start breakfeast. He stomped down the stairs with a wild look in his eyes. He kissed me and we danced like lunitics through the house. "You have blessed me with three children my love. I have never been so happy." I looked into my husbands eyes and smiled.
An accidental pregnancy brought me a life of contentment and love.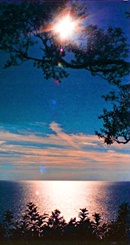 © Crystal B., Gresham, WI