Shattered Chapter 2.
November 16, 2010
"Drop dead sl**!" Those were the last words Eli ever said to me. My big ego had gotten in the way and I couldn't leave well enough alone. Why is it that when you love someone, you have to fight to have the upper hand. All I could think of while I was sleeping was how I screwed everything up for us and how I would never have him again. I remembered valentines day, we were apart but, oh so in love. That was the peak of our relationship. He wrote me a long letter that proved how much he loved me. After everything we went through and all the love we shared, in the end, he said he never meant any of it.

Three times. That's how many times I've wanted him. It's how many time I was in his arms. It's how many months that he was mine. It's how many times I had considered texting him since he had been gone. It's how many times we tried getting back together. It's how many times I've put a cut on my arm. It's how many times I've almost thrown myself in front of a car. It's how many time I've almost taken my life. It's how many times I'd give my life to be with him again. Three times.

I opened my eyes and I was still on the bed. The lights were all off, the moon was shining through the window next to me, and I heard yelling coming from upstairs. Shane wasn't in the room. The yelling sounded like two guys, one was deep and sounded like a lion roaring. The other was softer and sounded like he was being attacked. That was Eli.

"You don't even know her!" Eli was shouting, trying to defend himself against Shane.

"Yeah! But, no girl or human deserves to be treated like that! All she wants is you and you couldn't even listen to her! You slammed the door in her face and words."

"If you knew what happened, you would have done something way worse." Eli was right, he could've done worse than what he did. His words from that afternoon echoed in my ears. If only I could tell him that what I did meant nothing but when I was with him, that meant everything. If only I could tell him, Jude was a mistake and Eli was all I wanted then and now, if only I could turn back time. Sometimes all someone needs is a second chance. I hid there for five more minutes listening to them yell back and forth. I couldn't take it any longer. I got up in the pitch black of the night, the clock read eleven pm. I grabbed my shoes and carefully slipped out out the door. There was no way I'd be able to find my dorm from that building. So, I just strolled outside. There was a bench right in front of the building. I took three fluent steps over to it and placed my jacket on one end.

I laid down with my jackey bundled beneath my head and stared at the moon. Atleast, out here I couldn't hear them yelling. Then, a door slammed inside and I head someone stomping down the stairs. The light flickered on in Shane's room, then flicked off, only a second later. It was silent for a moment then, the front door slipped open. Out he walked, Eli.

"You're wearing the same shirt," he stated, pointing at my shirt. It was true, I wore it because of him. It was my first day back at the place that changed my life forever, so I thought maybe, wearing the same shirt might ring me some luck.

"Yes, it is." I didn't know what else to say.

"Listen Sammy. You hurt me, what you did, broke my heart," he lifted my head, sat down, and placed it on his lap. Did that mean he still cared, he still loved me, he still wanted to be with me? "I know I said some things as well but, you screwed up."

"Eli, I know I did but, god... this has been running through my head since the first second we stopped talking, I know this doesn't make up for what i did but," I took in a long deep breath. I wanted to tell him what I was about to see for the longest time. It could possibly fix everything. "What I did with Jude, meant nothing to me. I could tell the difference, there was more meaning and passion behind what you and I did, than there was with Jude. You're all I wanted all I will ever want, forever. There is nothing you can say or do to change that. You were the first guy I ever truly, truly loved and that means the world to a girl. In a girl's life, there are two guys she will love, forever. The first guy she ever loved and the one she marry. You fall under the first category." I lifted my head up off his lap and wiped away my tears because I started crying again. I looked up at the moon and remembered how many times I have looked at it and wondered if Eli was looking at the moon, as well.

"You're right, I just can't do this to myself. You mess with my head and I can't take it," he slid closer to me and looked up towards the moon as well. "I will never stop loving you, no matter what. You know I've sat here so many times and just stared at the moon, wondering if you were looking at it as well." He put his hand on my knee. I knew what he was saying. He told me that he couldn't do it. However, he always did think with his mind. He acts with his heart. Every move he made since he came outside was done by his heart. Every word he spoke however, was done by his mind. If he could let his heart take over, we'd be happy again.

"I leave my room every night and sit on the roof of my house, staring at the moon, it's the only thing that kept me connected to you. You're all I can ever think of and all I ever want to think of," I turned towards him. "I don't want to live without you any longer, I'm sorry, I screwed up real bad. But, I would never think of doing it again. The last thing I ever want to do is hurt you because every time I hurt you it kills me inside. I have spent the past few months, struggling to get through the day."

It was almost as if a sudden spark went off in his head. Suddenly, he showed a look of love and happiness. I tear ran down his face, I took my hand and wiped it away. As I brought my hand back down he gently grabbed it and brought it back up to his face, where he sweetly kissed it. He let go and wrapped my arm around the back of his neck and brought my face closer to his.

He leaned in and every moment stood still, just like the last time. He pulled me close by my hips and whispered, "Everything will be alright now, don't worry baby." With that said, he closed the short distance between our lips. I felt the tingling sensation of true love flow through my lips. However, my conscious reacted suddenly. Memories flooded my mind once again and all I could feel the guilt of how I didn't deserve this or him.

"Eli, we can't,"I pulled away from the gorgeous face that I have seen and dreamt of so many times before. He's all I wanted for as long as I could remember, and feeling his smooth lips on mine just seemed so wrong. I felt as if I could finally see the truth, I didn't deserve his love. "I love you, I always have and always will, but it's not right. I screwed up, big time." I stood up and began to walk away. That would be it. If I left this time, there would be no shot at coming back. That very thought created tears in my eyes. No more Eli, ever. That was when he grabbed my arm and spun me around so, I face him. In one second he had his arm around my waist and lifted me up. I threw my arms around his neck and wrapped my legs around him, while i continued to cry my eyes out. For what i thought would be the last time, I kissed him. That kiss. I could honestly say, was the kiss that made life worth living. It was the kiss that could make a lifetime go by, but it didn't.

"Sammy, I've forgiven you, I forgave you a long time ago. It may not have seemed like it, earlier tonight, but I did," he reached down to my face and wiped away my tears. "Just do one thing for me, I want to hear everything that happened with Jude that day." He took my hand and led me into the dorm building. If that was what I had to do to get my one and only back in my arms forever, I'd do it.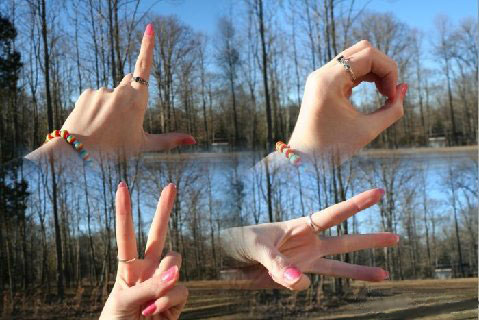 © Kayla D., Croydon, IN