Her Heart
December 4, 2010
They can't seem to handle her. She can't be tamed. Her HUGE heart, her reasurring laugh, her unique additude, her crazy, impossible ideas about love.
No one can handle her and her heart, except one person.
One dreary Valentines Day, her best friend spent the night. Her friend had told her about this guy that went to her school.
He sounded perfect, but after her last boyfriend had brutally tore her heart into a million pieces, stomped on the pieces, spit on them, and then set them on fire, anybody was perfect to her.
Naturally, her best friend told him about her best friend. He thought she sounded perfect too. They spent half the night talking, and when they weren't talking she was talking about him to her best friend.
The next morning, they leave to see a movie.
During the whole movie, all she could think about was him. His eyes, face, hair, eveything ( covered by clothes that is.).
After the movie, the guy had sent her three texts.
First one was; Hey, how's it going?
Second was; I miss you.
The third was the most exciting, it said; Will go out w/ me? Pretty please?
She sqeals with excitment, she replied with a yes.
Over the next three months, she cried ,laughed, and was loved by who she thought was the most perfect person in the world.
He bought her gifts, held here like she was the most fragile person in the world, and told her that he loved her more than anything in the world.
Until one day, she came home from school and started to text him.
"Hey babe" she said.
" Ur gonna hate me."
"y?"
" I like this girl."
"Ohkay.So u want to go out with her?"
"Yeah, like, really badly, I'm really sorry."
"It's fine." But it wasn't fine. She cried and cried and cried.
Just when she thought her heart had been permenently put back together it had been wrung out like an old mop, and used it to wipe up her tears.
After about a month of silence, she called him.
"Hello?" he asked.
"Hey, its me, I wanted to know if you wanted to hang out?"
" No. I dont, I'm sorry but you need to move on, I'll always love you."
"Yeah right." She cried until she realized she really did need to move on. So she set her heart in a glass case, so it wouldn't get ripped apart again.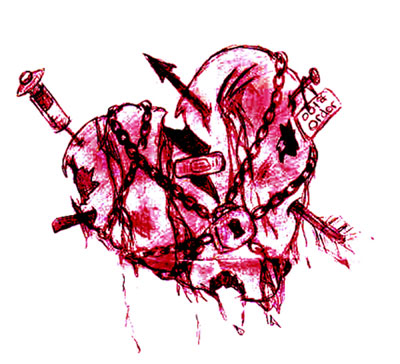 © Asia B., Hudson, MA