i remember when
January 19, 2011
There's so many scenes that play over in my head memories of when you loved me and the promises you made to me. I remember the night when I finally let myself fall in love with you. I was pressing my self into the corner to make myself as small as possible as if by doing that I could make there be less vulnerable parts. And I remember that night you asked me what was wrong, I couldn't believe that my mouth opened and out the truth poured that I was afraid you would leave me broken just like my ex did. you got down on your knees and looked me straight in the eye and promised me that you wouldn't leave me, you wouldn't hurt me.

I remember standing in front of school in the mornings when I was too upset for words and I just couldn't go on at home. And you just held me as I sobbed silently with out tears. You asked me if I was crying and I told you no. but I think you really knew I was.

I remember that last kiss the softness there was to it. Tender and lingering. I hardly dare to admit that I still feel its ghost. But the thing about that last kiss is when after you kissed me you promised me it wouldn't be the last.

What I remember best though I wish would be erased. I remember the last time you walked me home and how when we got to that last corner I asked you as I was grasping for straws what if I asked you out again? What if it was just our secret? And you said no right when we got to the corner. I remember the sight of your back as you walked away with your friend. Most of all I remember just before I pressed the button on the cross walk how tears I never cried for you seemed to pour down and I couldn't stop crying. I was begging you to turn around and see me. To come back and hug me and promise one more thing. but the words I wish I could unhear the ones you said to me as you looked me in the eye right before you turned around and walked home "were never going to be together again you know that right?"

but I think its funny how the words I forgot are the ones that sting the least. I didn't really love you.... to many times I heard it before. But what a surprise to go and read an old journal and find those words. And they actually broke my heart. They broke it all over again. i remember so much. Its hard to decide though which is stronger, the pain or the memories. Ill let you know when I figure it out.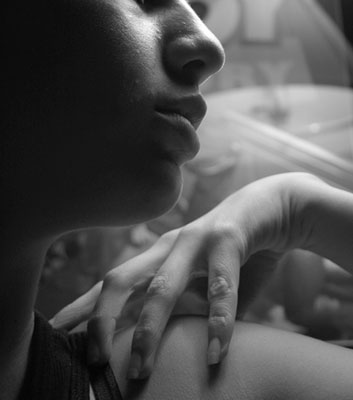 © Rebecca B., Santa Clara, CA