Rekindling The Past
April 4, 2011
The search box stared at me but my fingers were poised over the keyboard like time had stood still but my thoughts were moving at the speed of light.
I was 29 and single. I was in a dilemma because my family was very conservative and they wanted me to get married but I didn't want an arranged marriage because well, it's an arranged marriage. I wasn't by any means a Barbie, I was a size 10, and my hair was usually limp unless I took time to curl it in the morning, but recently I had stopped because a 9 to 10 job did not allow it.
I didn't even have the excuse of a high powered career for the lack of boyfriend situation. My office was a cubicle of 5'x 5' like everyone else. I was doing okay but not great.
Right now, I was in the process of doing the most embarrassing and humiliating thing on the planet. When I used to be 15 and dreamt of my fairytale, my search for prince charming was never an actual exploration like some desperado.
I typed two words, "Nicholas Johnson" and hit search. I looked suspiciously around my office hoping no one was looking at me and wondering why was I getting all sweaty and frazzled because of a stupid assignment.
I tapped my fingers impatiently but rhythmically but then closed the explorer window before it could show the results.
I wasn't that desperate I reassured myself. So what if I was going to be thirty soon, many people were single at that age and happy. Rachel Greene (F.R.I.E.N.D.S.) was having fun and who could forget, Carrie Bradshaw was single till 40 and she found Mr. Big, so I'm doing fine.
So I switched back to doing work and immersed my mind till I couldn't possibly think about anything else and deadlines were my only worry.
But when I reached home, I couldn't escape the reality of my solitary life. The single bedroom apartment, with a tiny pantry with the T.V. as my only companion did nothing to cheer me, so feeling insane I logged on again and once again typed the two words on which my fate rested.
I didn't stop the process this time, but waited till the page loaded. After all, I counseled myself, its only a possibility that I'll find him so if I just look, it's not a crime, right?
But then I saw, he really was there, in flesh and bone or made of the tiny pixels anyway.
I recognized him instantly because he resembled himself, his hair the same shade as before, dark but actually a mixture of browns, blacks and even a few strands of red. His eyes as green as ever, hidden behind his wire rimmed glasses, were beautiful and filled with laughter.
But he looked so different, his hair, though same as before, were shorter, more severe but still soft. His face, earlier totally smooth now had razor stubble. And he had expanded, he used to be lanky but now, his shoulders were wide, so if I sat behind him on his bike, I wouldn't be able to see the road, and his hands, they were so nice and silky and manly, that just holding his hand would make me feel safe. He wasn't a boy anymore, he was a man and I wanted him to be my man.
If he accepts my friend request, provided I send it to him. I started to feel nauseated and my hands felt clammy but I knew it was do or die time so I clicked on the Add as a friend button.
Feeling slightly woozy but victorious I got up and went to watch a marathon of HIMYM episodes. He must remember me, even though I know we dated like more than 10 years earlier but we had something special which was the only reason I had done what I had to do.
After three episodes, I didn't feel so great, new worries started circling in my mind. What if he remembered me? What if I he thought I was a psycho because you don't be chummy with a serious boyfriend even if you dated 10 years ago, what if right this minute he is laughing really, really hard along with his wife (or girlfriend) and talking about what a loser I am. The image of him rolling in his seat and wiping the tears from his eyes made me so paranoid that I jumped out of bed and switched on my laptop, ready to delete my request even before he says it.
I opened my account but was shocked to receive the notification that said Nick had accepted my friend request. Dazed I fell back against my pillows and I was at a loss of words, I didn't know how or why had he accepted it but he had. We were officially friends now.
I opened the chat box but he wasn't online. Even if he would have been, I wouldn't have said Hi first. Since I had sent the request, the online etiquette clearly said that the next step should be initiated by him.
So I left my account open and started doing my work hoping to hear the ping! of the chat but sadly the it remained silent. After about an hour, I got up and got my dinner (microwave popcorn) and settled down to complete my date with Ted Mosby, it was around 12 when my homepage glowed to life and just two words sent my heartbeat galloping. He was IMing me! He was actually IMing me!!
I opened the chat box.

Hey! I cannot believe this is you! It's been a long, long time and I just cannot believe it. Dude, how have you been??

'Dude ', who calls their ex a dude, is he not into me anymore? I mean you don't do that to a girl, its weird and we were special, he can't just call me dude, and now what am I supposed to say?? Am I supposed to call him dude too??

DUDE!! Ya its been way to long...we should totally meet like catch up and you can bring your girlfriend, do u have one??

DELETE DELETE DELETE. I cannot write that, he'll think that I'm a stalker. I can't have that. Okay, again.

Hey! Ya it has been a long time, I just found you online and well I thought we should be friends. I have been great! You tell me, how are you doing??

That's better; I thought and entered the text. He replied instantly, well he wasn't being very cautious so why should I be so paranoid, only thing is, I wasn't talking to an old friend like he was, I was talking to a prospective life partner.

Ya well I'm glad you found me. We should totally get together and catch up. We have ten years of catching up to do! My heart skipped a beat until he added, let's throw a reunion party, and we'll meet everyone!

Ya, that's an amazing idea, I wrote back, we should definitely plan it. And ya, we'll meet everyone; are you still in touch with our friends, you know, Allison, Johnny and the rest of the gang??

This way, maybe I'll find about his status, or I could check out his relationship status!! I quickly opened his profile while he typed his reply.

Ya, a little, Allison and James got divorced, it was sad, you know, James was really messed up for a long time.

Relationship status: Single
Oh my god, if he was married, he would have put it there, so he's definitely not married but the girlfriend can still exist. So I should just ask right, I mean his latest message gave me the perfect opportunity, and I should go for it!!

Haley?? Are you there?

Oh ya, I'm here, it was so sad, about them you know, they were so in love back then, and now it's just gone! Things like this just scare me, why get married if it ends up like this??

So I now, he knew my status, sort of but what about his??

Ya I agree with you there but I'd like to commit myself to someone, but I don't have anyone special, ?

HE WAS SINGLE!!!! And I should bring this conversation back to the get together of the two of us.

You'll find someone soon; I can feel it, trust me. ? So I have to go now, I'm tired, so we should meet soon and talk.

I didn't want to end the conversation but it was necessary.

Let's meet this Friday at "Le Repas" at 8, what do you say??

I say hell ya!!!!

That will work; it was great talking to you, bye, and goodnight!
Bye and see ya ?

FRIDAY, 8:05 PM, LE REPAS

I'm wearing a pretty dress, its blue and it brings out my eyes. I have curled my hair and my skin is clear, and I am waiting for Nicholas and most importantly I AM HYPERVENTILATING!
I am forcing myself into an arranged meeting, so what if I had feelings for him? It's been 10 whole years, who knows what will happen now; people just don't fall back into love do they? It's not right and I shouldn't have done this, I mean he's a total stranger in some ways and I don't know what kind of a person he is now, who am I kidding? He's going to come here hoping to meet a friend and I was hoping to ambush him with my crap?
I shouldn't have done this, I shouldn't have, now I am going to behave like a normal person and not the psycho I am, we're going to finish this dinner and be on our way, no more plotting and planning for me.
With this epiphany I went out and caught my breath, Nicholas had arrived and he looked so good, with his hypnotic eyes and cut body. But I controlled myself and went towards him; he looked up and smiled brilliantly when he recognized me and said "Hey, you look beautiful!" then stood up to seat me.
After that, the conversation just flowed. We didn't think about what we were saying or we didn't need to hunt for topics to talk about. They introduced themselves to us and whenever there was a lull in the conversation, it was not an awkward but a comfortable silence.
But we both behaved cordially. An outsider wouldn't have been able to guess about our history, we looked like two acquaintances. We talked freely about life, jobs and everything but we stayed away from our past.
All too soon, the night came to an end, and he walked me to my car, a second-hand Volvo. As I opened the door to the driver's side, he stood with one hand resting on the top of the car and the other raking through his short hair. I turned to say good bye making myself promise that I wouldn't stare at his lips but before I could say something his mouth came down on mine.
10 years had passed since I had felt those lips move against mine, gently but with a slight hint of eagerness. My knees gave out but it was okay because he supported me now. 10 years and I knew what was I missing, this man made me feel alive, this hope which came with the first brush of his lips against mine filled me and I knew I was in the arms of the man I love.
I parted my lips slightly, inviting him to taste me again and he accepted my invitation, lavishing me with love, I knew it was love because no one but a man in love can kiss like that
10 years I had searched for love and I found it now in the arms of Nicholas.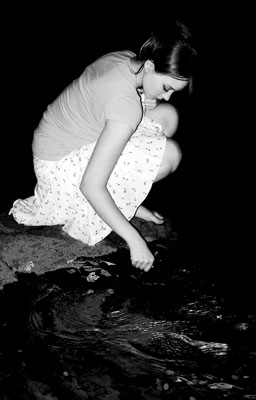 © Michelle B., Blairsville, GA