Shane's Beanie
June 16, 2011
He pulled the pony tail from my hair gently and my deep red hair spilled across my back like blood.

"Your hair is so pretty." He murmured in my ear as he ran his finger though it, making chills run down my spine.

"Thanks." I reached back on instinct and ran my fingers through it, our hands bumping. I chuckled a little and pulled my hand away.

"Do you like my hair?" He asked, sarcasm in his voice. I glanced over my shoulder at him, with his famous beanie on, he kept his hair short.

"Of course." I turned to face him and I saw my sister duck back out of site at the doorway. "Go away, Tinsley." I called out casually and Shane twisted around to see, too.

I heard her run up the steps and then turned my attention back to Shane. His "wolf eyes" smiled at me making me forget everything around me.

"Can you do me a favor, Ellen?" He said my real name, not Elli, like I liked.

"Yeah," I nodded and watched as he lifted the beanie from his head and I was surprised to see he was bald. He slid the beanie over my head, adjusting it how he liked and smiled at me.

"I want you to wear it." His eyes shining oddly in the lamp light.

"Where is your hair?" I asked reaching forward and resting my hand on his head. He stayed still, but gave a crooked grimace.

"They got those results back, and they were right. I have..." he stopped and he scowled, like he was trying very hard to do something. He looked away and I saw the tears in his eyes. I pulled my hand away and grabbed his big ones, cradling them in my small ones.

"I have cancer, Ellen." His voice hit me like a wall, but I didn't move.

"No, Shane." I whispered, feeling like a chunk of me was pulling away.

"Ellen, they didn't catch it soon enough. I've got only a few months." Shane's hands were trembling a little, or maybe that was mine.

Shane pulled me close to him and wrapped his arms around me and I cried. Cried like a child who was lost, in pain, confused. Shane was the adult, trying to calm me down and sooth me. I eventually fell asleep, next to him on the living room floor. I didn't dream at all, just zoomed through endless darkness, looking for something.



I woke up the next morning, Shane staring at my face. I smiled at him and my face felt sore.

"How long have you been watching me?" I asked.

"All night, darling," and he sat up, his beanie still off. I sat up as well and pulled it off. I held it out to him.

"You want it back?" I asked my eyes searching his face, but he shook his head.

"You said you would wear it for me." Shane put it back on my head and smiled.

"Thank you." I whispered and Shane took my face in his hands kissed me, with passion following from him to me.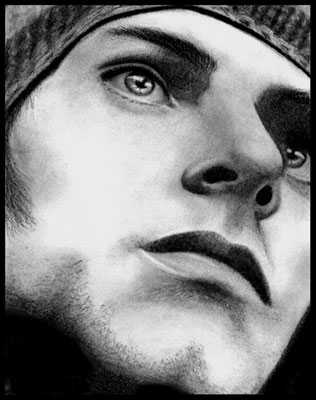 © Anna Y., St. Robert, MO