Matching Haircuts
June 15, 2011
"Haley, I want you to cut my hair." Logan handed her the blue handled scissors and plopped down on the kitchen chair.

Haley looked at the scissors in her hands, trembling a little and then at Logan's soft brown hair.

"No, I won't." Haley let the scissors drop to the floor, where they clattered loudly and were followed by an even louder silence. Logan broke the silence.

"Haley, I need you to do it." He stayed facing forward, knowing she would pick them up and follow his wishes. Haley scooped up the scissors and walked around in front of Logan. She sat down in front of him her own chair. Her own strawberry blond hair hanging down just past her shoulders.

"Logan, you can wait a little longer." Her sad eyes pierced his, but he just gave her a sad smile.

"I don't want to wait. I'm ready." Logan's hands were folded in his lap. He gazed at her calmly, waiting patiently, something he had grown good at doing.

Haley raised the scissors, snapped the open and shut quickly then bit her bottom lip. She grabbed a piece of her own hair and in Logan's amazement, watched her cut it off. She dropped the clump to the floor and stared at him with serious eyes.

"I'm ready, too." And she went to work at cutting away her beautiful hair. He watched her with eyes that filled with love, and tears, too.

When she finished she didn't glance down at the mess, just stood up and looked it his eyes, satisfaction in her own.

"Are you ready?"

"I am," he closed his eyes and felt her working gently above him. He peeked once, only to see a clump of hair drop down in front of him. When she finished, he stood and wrapped his long arms around her.

"Thank you. So much." And he kissed her like he had never kissed anyone before, with true love sparking between them.

"Come on," he said taking her hand and pulling her away from the mess on the kitchen floor. "Let's go get real hair cuts now." And she smiled and walked with him to the barber shop, where they got matching hair cuts. Her hair grew back, but his never did. Never had the chance to.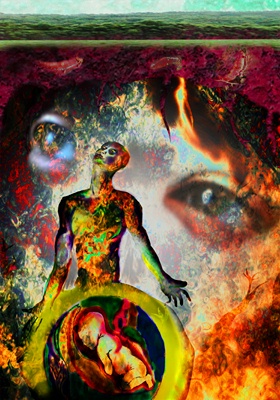 © Tom M., Philadelphia, PA