Secret touches
October 13, 2011
Secret touches. The need to be in some kind of physical contact with that one person for no apparent reason. When no one can know about the feelings being shared, it makes these moment s of contact precious. To claim them is a daunting task and must be a mutual effort. His hand falling to the small of your back to stay only a moment before the shrouded eyes could catch a glimpse of what's being shared. Hands sliding together in perfect synchronicity must be released as soon as there is the slightest whisper of being caught.
Oh but the risk is worth the electricity that passes from body to body in that fleeting moment. It provides a small pump of adrenaline that acts as a motivational push to receive or give the next touch. An intricate dance is preformed but the curtains are closed to the audience. For the beauty of what happens behind closed doors should be restricted from those on the other side. In that single touch so many unresolvable topics can be resolved. It's an ancient art forgotten by man and replaced with a more vulgar format that leaves both parties secretly underwhelmed.
You rise or fall in that single moment, shared with that one single person. Everyone should be required to have these moments for it is the most secret of ways to get to know a person in their most intimate state. It provides all that can be expected and needed in a relationship; thrill, passion, determination, and feeling that have no set word to own it.
And the best part? Once you capture all the secret touches you can muster without bursting from anticipation, you receive one of the best rewards for the effort. A secret kiss between lovers lips.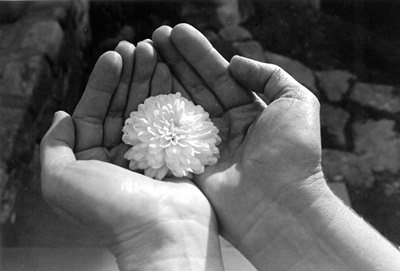 © Beth S., Marblehead, MA