On our way home
September 22, 2013
"Hey new girl!" I spun around on my heel towards the sound. I scanned the dwindling crowd and spotted him. His shaggy red brown hair fell messily towards his face. His gray eyes shined in the street lights and his broad smile widened at the sight of me. He carelessly walked towards me.
"Hey junior, what you doing out this late? Aren't you going to miss your bed time?" he asked, his words running together. I laughed as I pulled my sweater around my shoulders. I could feel the November wind skirting my skin.
"Well senior," I started, "if you must know, I was at the book store. Where I work."
He nodded in understanding as the wind blew his hair away from his face. He looked me in the eyes and smiled a silly grin. The faint smell of alcohol came off of his breath and I looked at where we were: in front of a bar. I forgot he was 18 already.
"Why are you out here so late, Justin?" I asked.
"I needed to get out that God-forsaken house," he said. "My family depresses the hell out of me." I looked back at him. His posture was slouchy and he looked tired.
"How about I walk you home," I offered. He nodded enthusiastically and grabbed my hand.
Turning around he said, "I know a fun way home! I hope you got your running shoes on, Mariah!" He pulled me along through the crowd and we started to run. We ran past the stores and the lights, making everything a glowing blur. He gripped my hand tightly as we made a sharp turn down a sidewalk I've never been on. I was new to the town and there had been a lot of sidewalks I haven't been down yet. I realized it was a dead end and on the other side was a fence. He turned around towards me, walking backwards, He switched my hand out of his left to his right.
"Where are we going?" I asked.
"Home," he smiled. He climbed over the fence first. I hesitated and looked at him through the fence.
"I don't know about this," I said.
"Come on please," he pleaded. "I won't let you get hurt…I promise."
I sighed and started climbing on the crates and over the fence. Once I got over my hand slipped and I toppled on top of him, landing on my side.
"Ow!" I yelped. He quickly got from under me and lifted my shirt. I had a nasty bruise right below my bra line. He traced it with his fingertips and when I winced he jerked away and was on his feet.
"When we get home, I will fix that. Come on, Mariah, we still got a little ways to go!" he said pulling me up on to my feet. He held my hand again and we started running. Beyond the fence was a grassy field. The weeds were up to my shins and being the clumsy girl that I am, I kept tripping but Justin didn't seem to notice. About halfway through the field we stopped.
"Where are we going?" I asked again.
He looked over his shoulder at me and then up at the sky, "You ask that question an awful lot, you know." I stood next to him and looked around. There was just grass and I couldn't see which way we had come. When I looked back at him he was already staring at me. My cheeks started to get hot and I looked down at my feet, wrapping my arms around my body. He turned me towards him.
I looked back at him. "You're drunk."
"And you're beautiful," he said moving towards me, "now can we stop stating the obvious?" I looked at him in his grey eyes. He was smirking at me and I realized I could feel his body heat radiating off of him and I realized how cold I was. Reading my mind, he took off his jacket and put it around my shoulders, pulling me closer to him.
"Look up," he said. I looked up and all I saw were stars. Millions, billions of them scattered the dark night sky. We weren't by a city and the lights didn't make the stars fade. I realized that I had never seen the stars like this. It was amazing.
"Sometimes, when I'm sad or angry or lonely, I come out here and lie on the grass and try to count the stars. I stay out here and watch the sun come up and then I walk home. It always calms me down and gives me this great feeling inside. It gives me a chance to think," he said. I looked back down at him. He was still looking up and I could see the fascination in his eyes.
"Wow," was all I could say. He looked back at me with a smile.
"Well we best be going. We have to get home," he said laughing and zipping his jacket up around me. He grabbed my hand again and we were running. I don't know how long we ran but we ran. I was out of breath and my knees were shaky but we still ran. Sweat dripped down my back and my feet started to blister. Finally we stopped and at first I didn't realize where we were but then my eyes adjusted and the houses came into view. We were in his backyard. With him still holding my hand he led me up the back porch and then went inside. About a minute later he came out with a jar.
He bent down. "May I?" he asked. I bit my lip and nodded. First he took off his jacket that I was wearing and draped it over his knee. He then took off my sweater and put it in my lap. Then he slowly rolled the side of my shirt up to wear you could see the bruise. It had gotten bigger since I first fell. He uncapped the jar and put the gel substance on his index and middle finger. He gently rubbed the substance over the bruise. I could immediately feel the pain turn into a little throb. His hands were warm and made my body shudder. After he finished he took his jacket and the jar back inside while I put my sweater back on. Then he grabbed my hand again and we started walking towards my house. Once we got there we kind of lingered at the bottom of the porch.
"This was fun, Justin," I said.
He blinked. "Thanks for walking me home," he said. I smiled at him.
"No, thank you." I went up the porch stairs and got my key out of my pocket. I turned around. He was leaning to one side and was squinting at me.
"What are you doing?" I asked.
"I'm about to do something I wouldn't have the balls to do if I was sober." Before I could react he was at the top of the porch stairs standing in front of me. He cupped my face in his hands and brought it up to his. He brushed his lips against mine. I could smell the lingering liquor on his breath and his hair smelled like cinnamon and sweat. Then he parted my lips with his and kissed me. I finally reacted and put my hands around his neck, pulling me up towards him. I gently bit his lower lip and tugged, a satisfied moan coming out of his mouth. He smiled while kissing me and his teeth brushed my lips. His hands moved to my hips as he pushed me closer to his body. We were pressed against each other and I was no longer cold. My toes curled up inside their shoes and I sighed. He broke away and stared at me. I stared back. We unwrapped our hands and arms from each other and he turned down the steps. I watched him walk down the street back towards his house and couldn't help wondering if he would remember this night in the morning.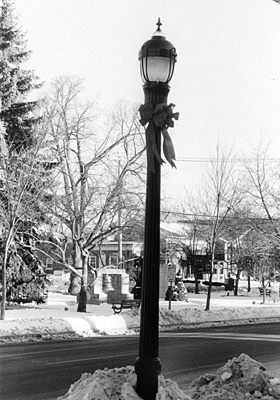 © Geoffrey D., Milford, CT