You'll Always Be My Sunshine
January 5, 2009
The letter fell like a deadweight from my fingers. It settled in the dust of the floorboards, the proof I wanted so very much to deny, and the inevitable realization that escape was impossible.


*
I'd never intended to fall in love with a soldier. From the time I was old enough to understand the attraction between people, I'd promised myself I wouldn't marry someone with such great potential to leave me.
But his eyes were soft and he didn't care when I forgot his name. He didn't lie to me to allow me to believe he was better than reality. But it was okay, because in my heart I pretended he was.
It was difficult, when his smile faltered and he turned his face from mine. I couldn't stand to watch him struggle internally as he was, but the greater pain lay in his unspoken sentences.
He looked at me then with the sadness in his expression, and blinked back the tears that were trying so hard to spill onto his cheeks. It was then that the ice spread throughout my body, numbing every thought I'd ever had and erasing every word I'd intended to say.
"I'm going to war, Lisa." And the words carved a hole in my heart that had never had any business being there.
So it was not with great difficulty that my cheeks became stained with the first floods of many to come.
What I wanted most was to run from this place and forget the memories it now held for me. Forever it would be a reminder of the time I'd lost and the soul I was separated from.
So he rocked me in his arms until the light faded from behind the trees and my eyelids closed on the last moment I would spend with the one I truly loved.



*
The noise should have irritated me, but I had attention for one thing and one thing only and he was standing just feet from me, a pillar of strength and goodness and the man I couldn't afford to lose, but was slipping from me.
We stood in the throng of eager young men that were excited about the prospect of war because they had nothing to lose. Others held their wives or their girlfriends in their laps to treasure their last minutes together. But Logan and I could hardly bear to look at each other. Our time was limited but we couldn't say goodbye because of the weight of such a word. It symbolized a dead end, the severing of what should have been a long and happy relationship. And we didn't want that to be the last memory we shared of each other.
But when the whistle blew I looked at him through the tears in my eyes and I knew I couldn't just let him go. He was my last piece of happiness and to allow him to walk out on me was like refusing the sunshine from surrounding my house.
So I ran into his arms and buried my head in his chest as I whispered the only comforting words in a moment like this.
"I love you." And I meant every word.
"And I love you." He repeated as he stroked my hair.
"Don't go," I pleaded because it was the last attempt possible to keep him with me.
"You know if I had a choice we wouldn't be here." He smiled at me one last time with the sincerity of sorrow and I knew that inside he was hurting just as badly.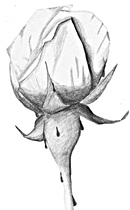 © Elaine S., Phoenix, AZ