Breaking Free
March 7, 2019
As I entered my father's study, the familiar scent of leather bound books and burning candles filled my nose. He sat at his desk, tinkering away at an object. I must have made a noise because he swiveled around in his chair.
"Hey dad." "Oh, hey honey," he said absently. As I approached, I could see the glowing object in its entirety. "What are you working on?" I asked, as if I didn't know. You see, he's been working on the same project for years. Before I was born, my father, Dr. Arthur Wilbourne, made it his life's mission to successfully transform a human into a bird. I know... it sounds crazy. As a child, he stayed up all night reading countless mythological stories about flying creatures. One of his favorites was the story of Icarus and how he flew 'too close to the sun'. Ever since my mother died, his love for science had filled the hole inside. When he came out with his beliefs, he was ostracized by the science community. So no matter how odd it seemed, I never questioned him.
No response. He must have been too focused to pay me any attention. Our black bird, Titus, chirped, ruffling his small wings. The enclosed metal cage rattled.
"Perfect!" he exclaimed. He stood up in amazement. His fingers ran through his unkempt, auburn hair. As he turned towards me, his green eyes lit up with excitement.
"What? What?" I looked at him in confusion.
"I've figured it out!" He began to pace back and forth rapidly, then out of nowhere darted to his bookshelves. As he perused the rows of books, I stood frozen, shocked by the sudden change in events. After grabbing a rather thick-looking book, he laid it across the desk, flipping the pages with his nimble fingers.
"Here! I can't believe I hadn't noticed this sooner. It's the missing piece for molecular restructuring." He began frantically keying new settings into the machine. All the while, the room was silent except for the calculated strokes of the machine's keys.
Once my father finished, a satisfying click signaled his work was complete. A wide grin spread across his face. As I moved in, I could see the jumble of wires and cords. The machine was practically alive with electricity. In the excitement, I couldn't help but to inch closer for a better view. I felt a slight tug, causing me to lose balance. My body lurched forward, tumbling towards the machine.
"Watch out!" my father warned me. However, it was too late.
I could hear a distant shatter of glass. A burst of blinding light filled the room. For a few seconds, I felt like I was on fire as the heat spread across my entire body. Then, silence.
As I regained consciousness, intense, throbbing pain took over. My head felt dizzy and my body was as light as a feather. It was hard to determine where I was, but when I looked up, the first thing I saw was my father. He towered above me, and I felt myself stumble back with fear. He moved closer, looking petrified. His face wore a pale, ghostly expression.
"Dad, are you okay? What's wrong?" For some reason he did not respond, but continued to look frightened. Why can't he understand me, I thought?
"Morgan, is that you?"
"Yes, dad! What's going on?" He gently placed his hand on the ground. Hesitantly, I hopped on. The room seemed to sway in slow-motion as we walked across. He set me on the closest table.
In the reflection of the circular mirror, I saw myself in this new body for the first time. To my disbelief, I had turned into a bird.
"If you can hear me, shake your head three times," he said, putting me on the spot. I did what was commanded.
"Oh my goodness, I can't believe I did this!" he said. After a few minutes of examining me, he brought me back to the machine...
It is day 734 since the change. My father has worked sleeplessly to change me back, but his efforts have been in vain. The crazed person I see now is not my father. I wait... and wait... and wait patiently for the perfect moment. As I sit on the windowsill, I look back once more, reminiscing on the times we spent together. It is now my time to go. Today's the day I set him free.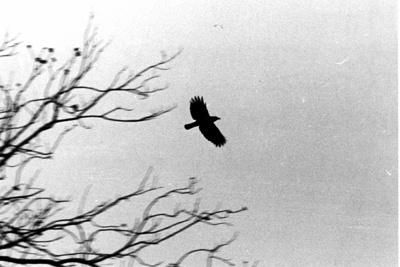 © Jacqueline T., Flowermound, TX