Inevitable
June 22, 2009
My fingers skim across the keys, as I enter my latest adventure into my blog. I click submit and then exit into another window. I have no new emails. I log out and jump up ready to finally fall asleep. Once I was normal. One I had friends. But now my past is forgotten. Unimportant to everyone but me. I was chosen as the leader. The leader of this shallow community. And now the only important thing is protecting this town. I close my eyes preparing for another nightmare. I wake up in a sweat. The dream was worst then most. This time I saw him die. I saw his rich blood and I was so close. Too close. Because this time I was the one who killed him.
***********************************
I wake up still in a trance. My body's still shaking from the shock of it all. I hurry up and get dressed eager to leave my small room. I bang on the prision door. They didn't want me to leave since now I've discovered the secrets. They don't want me to warn him that he's going to die. They open it. Not welcoming me. Not saying a word. I walk down the narrow gray hallways stumbiling as my guard hurries me along. I want to delay his death. But I know it's going to happen even if I do everything in my powear to try and stop it. I gulp, open the door, and step forward to meet the inevitable.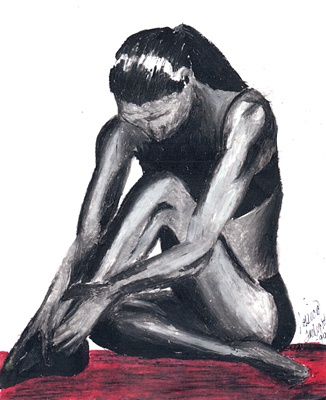 © Jessie Y., Ahwahnee, CA