Mission Near Impossible
February 2, 2011
What can I say? Maybe this was all a misunderstanding, but it wasn't. This all happened by accident, but it didn't. Everything happened for a reason.

My bright green highlights stood out in my flowing black hair. My clothes were stained and comfortable. I was hunched over a platter with dissecting utensils, trying to decipher which tool was used for what procedure. My lab partner was just staring at me, waiting for the right time to bolt to the bathroom; that way he wouldn't have to do any work. He was doing that kind of twitchy dance like I used to do when I was a little kid, but I only danced like that because I was young and needed the assistance. Garret was sixteen and very capable. "If you really have to go to the little boys room, Garret, I won't hold it against you," I finally said. He looked more relieved than anything; gave me a thankful look and went off. It was in his nature to leave his backpack in class and ditch, so naturally this didn't occur to me until after I let him leave. I wasn't going to see him again.

Alright- so I took the blame for his absence. Don't ask me why because I don't know why. Mr. Gunnar docked my participation grade by ten points because I "forgot" to tell him that my partner went home sick. Luckily he didn't find where I hid Garret's backpack. I didn't complain and I didn't care. There was something odd about how Garret's gray eyes could look into mine and seem so robotic. It was like he was an alien from Mars and didn't know how to show emotion. I was curious as to how he was able to be the master of disguise. I was intrigued. I wanted to know what made his clock tick and why did it make his clock tick in that certain way?

That was my first mistake.

The day was over, or at least for the school it was, for me it was just beginning; but I didn't know it yet. The clouds were shielding the sun from us, as if we were not worthy to be in its presence. These clouds were angry though, not little fluffy or puffy ones, they were thunder clouds. It was about to hail and I knew it. Was that a problem? Yes. I may have been sixteen, but I only had my permit, so no car for me. Even if I did have a car, hail was still a big problem. I did the only thing that I could do, which was sprint as fast as I could to my house; which also happened to be a mile and a half away. Great.

Ouch! Ouch! Ouch! I thought to myself as I made my way down the slippery and wet sidewalk. I was being buried by golf ball sized hail, and it did not feel good. I finally gave up on getting home and ran for shelter in the nearest 7-Eleven that I could find. Here in Johnson Town, 7-Elevens substituted for our grocery stores, so naturally I would be safe there right?

Wrong.

This 7-Eleven happened to be closed, so I was stuck huddled as close to the building as I could get so I wouldn't be hit by anymore hail. If that weren't enough of a problem, my cell phone had died, or should say it was killed, because when I brought it out to call my mom it got knocked out of my hand by the hail and shattered when it hit the pavement. I was shivering by then so I wouldn't have been able to hold the cell phone anyway, or at least that was what I kept telling myself. I decided that I would have to wait the storm out, or freeze to death, whichever came first. I sat my backpack down and made a pillow out of it. I tried to keep warm by huddling into a ball and laying my head onto the backpack. Before I knew it, I fell asleep.

"Will it be alright?" "I don't know it looked like an ice cube when I found it." "Pity. I wanted a snack before sunrise." "Nice Try! I found it! It's mine!" "Oh yeah? Who had the idea to go out for an early snack? Huh? That would be me. And who decided we better take it just in case it thaws? Me, again! That makes it mine!" "You pig! You got the last one anyway! So its my turn to feast!" "How come you always pull rank on me? Just because you're older doesn't mean you are the boss!" "We can't eat it anyways. We have a mission to complete. And you're not going to mess this one up like the last one! I am tired for covering for you! It makes me look like the fool, when you are the one who is the fool!" "Oh shut up!" "No, you shut up!" "I told you first!" "I told you…" "Shh! Shh! It's waking!" "There you go again being bossy!" "I said shut up!" Whack! "Alright!"

I couldn't open my eyes. They felt like they were sealed shut; and whenever I tried to move, I could feel my body moaning and groaning. Also, did I mention that I was so cold that it felt like there was an earthquake, but I was the only one shaking? I thought that I was going crazy. While I was lying down, I could have sworn that I heard voices. There was no one so foolish to go out into a winter storm just to get some groceries at a 7-Eleven, unless they wanted a new paint job for their car, and they needed a reason to get one. Though I couldn't make out what they were saying, I could have sworn I heard the voices again right as I tried to sit up, but I crumbled back down to the pavement with an umph! Ok, stay calm, I thought. Stay calm. You are not going crazy. You are just imagining things. Imagining voices. Even in my own mind that sounded like I was going insane. I couldn't take it anymore and decided to break the silence. "Who's there?" I called. "See I told you to shut up!" "So I'm not going crazy," I mumbled to myself. I then called, "I can't see, can you help me? I seemed to have taken a spill because I can't move my legs either." "You idiot! Now it knows we're here! You could have kept quiet like I told you to, but no you had to have the last word!" "No I didn't!" "Now what do we do, Oh Bossy One?" "Shh quiet! Maybe it hasn't seen us yet!" "What do you mean it hasn't seen us yet? It heard us! Besides, you are the one who sealed its eyes shut with the serum!" "Oh yeah… But still if we keep quiet, maybe it will forget about us." "You always underestimate humans and it inevitably gets us into trouble!" "That's not fair." "Missions aren't meant to be fair, now be quiet!" "Um, whoever is there, you know I can still hear you right?" I asked. Silence met my question, and with that silence came the realization that I was in trouble- big trouble.

Suddenly, there was huge explosion of broken glass raining down from above, and mixed in was the golf ball sized hail. That was when I realized that the ground was dry and warm. Where was I? There were footsteps, now, followed by shouting. "Blast! How did they find us?" "You idiot, they probably tracked the earthling that you stole!" "I stole? It was your idea to go out for an early snack, and it was also your idea to bring it along with us!" "Never mind that! Just grab it and scatter!" "Stop them! Don't let them take the girl!" Shouted a guy's voice.

Garret?

"A girl!" "So that's what it is!" Said my captors with realization.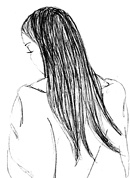 © Miranda B., Neosho, MO