Fallen Princess
February 9, 2012
"Alice, Alice," The soft sweet whisper of my name was being invoked on me again. His voice was so alluring. One more step and I would be his forever. Correction, Trapped with him forever. I did the one thing anyone would have done. I ran, I ran as far away as possible letting the cold air of the night burn my lungs. Finally coming to a stopping point near an old bus stop I was frightened by a young man giving me my wallet back; I didn't realize it had fallen out, "Thank you." I whispered politely at the man it makes me feel hope that there is still good in my land.

It wasn't until seven in the morning I awoke to find black rabbits laying in my bed, I was ecstatic; for rabbits are a sign of good luck. I live near an old river were trolls use to play. When I was young I used play with trolls, they were my best friends but that was long ago. That was before 'The Beasts' won the war. Now this place is a lifeless, rundown tragedy. Rabbits were rare and to have gotten one was something extraordinary.

The time has come to go work for mean old Randy. Bahh! I spat at the acknowledgement of his name. That dreadful man is not worth a silver pebble! He had me picking and planting seeds all day; magical seeds to control the mind of animals. This here was Randy's "brilliant" idea for taking over other worlds. He'll pay for what he has done to my, no our precious land. These 'beasts' will be obliterated and our time will come to a rise. We will be glorious.

On my way back home in the quiet night, my eyes found a silver blade with a crescent moon embedded in it, shattered. This blade, not just any blade but a mighty silver blade once held by our strong brave warriors. If one was shattered meant a warriors death. These terrible 'Beasts' are killing again! Rage and sadness filled me; this land was once beautiful and peaceful. "My land," I Whimper out a sigh of sadness. As I attempted to walk away, footsteps were behind me. A rush of panic filled me as I turned around without a second thought. It was a commander beast. I have never been so close to one before. Something was off about him, something unusual.


"Alice," his soft voice saying my name again. My heart dropped like an avalanche. It was him; I stand in utter belief, this disgusting, filthy, no good creature! Yet I felt a deep warmness for him. A deep desire for this beast. "Alice," He gestures me to take his hand. I gasp as I redundantly place my delicate hand in his for taking. Now I am his forever, fading into quietness. I faint afraid of what lies ahead.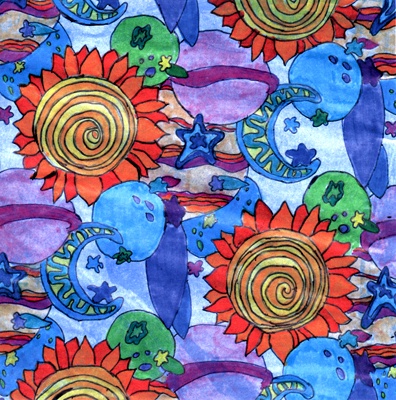 © Jeanne H., Pembroke, MA