Prince Charming and His Twisted Princess
August 13, 2013
Melody was a quiet, plain girl with a name that suggested something beautiful. She often dreamed of the day when Prince Charming (also known as Prince Brendan) would come to save her from the horrible household of Prince Kaden. Prince Brendan and Prince Kaden were rivals, and it was only fitting that Melody be in love with the one she did not serve. However, she believed Brendan was perfectly worthy of her adoration and admiration, being nothing less than the flawless Prince Charming of her dreams.


In the society Melody lived in, there was not a single ruling family, but rather several royal families. In a horrible war that lasted ten years, the land of Abondante, which meant "plentiful," was split into three separate countries: Belle Terre, Beauté Abondante, and Utopie. Abondante was not large to begin with. After the war that split the land in thirds, the resulting countries were tiny. Prince Kaden resided in Utopie, although the land was far from its namesake; it was so unlike a utopia that the name was laughable. Prince Brendan's family ruled in Belle Terre.


And so Melody served Kaden, day after day, polishing the silver, scrubbing the floor, and washing the dishes, never speaking, and never daring to raise her eyes past her master's mouth. After years of longing for Prince Brendan, she had become an expert at catching the slightest breath of news about him without being found out. No matter where in the palace his name was uttered, she was there. At first, she was ashamed, afraid to be caught eavesdropping on private conversations, but her hate for Kaden and his family overpowered any feelings of guilt she felt.


It was for this reason that she was present when Kaden's disdainful voice drawled arrogantly about his plans to kill Prince Brendan, including a simpleminded plan to bring Brendan to the palace with the pretense of holding an apology ceremony for the ongoing feud from the time of the war. After the food had been served and the guests were at ease, Kaden would usher Brendan off for a private tour of the weapons gallery. By the sword of his grandfather, Kaden would slay Brendan, inventing a clever story about how Brendan rushed him and he had no choice but to take him out first.


Melody was sickened and distraught. How could a servant like herself get a message to Brendan without being discovered? So she did the only thing she could think of and picked up the oil lamp she carried about. She very calmly walked into the parlor where Kaden was being pampered. She walked right up to him, looked him directly in the eyes as she had never done before, and brought the lamp down on his head, nearly laughing at his face when the glass shattered and the hot oil poured down over his face. She then brushed off her hands and walked out. She did not care when Kaden's men came after her. She did not care when a sword cut through her back and scraped her heart. Her only regret was that the simple dress she wore, painstakingly cleaned every night, was bloodied.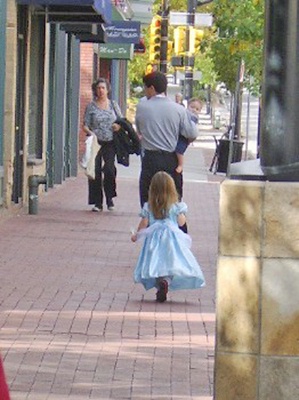 © Kristen T., Tulsa, OK