Cyber
MAG
June 29, 2014
I look over the sleek metal paneling uncertainly. Channels of blue run down the sides, pathways for electronic messages to flow from my brain to the makeshift foot, not yet connected to my temporarily mangled leg. It's nothing special, really, just another state-of-the-art cybernetic prosthetic. It'll replace a crippled foot that's too misshapen and broken to carry my weight.
They say it will work perfectly.
I honestly don't believe them.
The surgery should be quick. I will be unconscious the whole time, unfeeling, unconnected, unaware. I won't feel the computerized foot's metal tendrils snaking into my nerves and latching on. I won't feel its connectors flowing through my veins and snaking up through my leg, my torso, my neck, and finally, my brain. I won't feel anything except the sudden wholeness as I am completed once again: part human, part cyber.
They say it will work like new. I'm really not sure what to make of that. I haven't heard of any severe cases of cybernetics going haywire, but it's still a possibility. If the wiring doesn't connect properly to my brain, if it misses the nerves by less than a millimeter, it might not work at all.
If it misses by more than a millimeter, I could have severe brain damage.
They, of course, say everything will be fine.
I seriously doubt that.
Becoming a cyber will render my status halved. I won't be viewed as I am now: as a human. Being a cyber means less pay, less respect, less everything, and because the connectors in my brain could potentially be hacked, I could also be out of a job. The Royals can't have any loose ends in their ranks, ends that the enemy could easily take advantage of. I am a liability. I'll probably be cast out, never to see my lover's face again. Chances are, after this, I won't even remember him.
No loose ends, after all.
I have their secrets, and if I get hacked, the enemy could easily sabotage the Royals' plans. Leaving me alive means leaving an open door to their secrets, and that could turn the war in our opponents' favor. Killing me, though, would be too obvious, too dirty. Better just to clear my memory, secrets and all, and be done.
They said they won't do it. For once, I know for certain that they are lying.
When I get that foot on my leg, I won't remember who I am. I won't remember the countless nights staying up to study for exams, the tests I had to pass in order to reach my status in the Royal Guild. I won't remember that priceless moment when they first approached me with the offer – for a job that would take me places I couldn't yet imagine. I won't remember my parents, my younger brother, my friends. Heck, I won't even remember my name.
I lie on the examination table, run my fingers across the cold metal, and shiver under the harsh lights. I'm trying not to look at the sophisticated machine that is going to remove my foot – the foot that was caught under a burning pillar that collapsed during my escape after I stole critical information about the enemy's new weapon. The foot I lost for the bloody Royals, who I know are going to wipe everything I know about them away. If they have any courtesy, they might leave me my personal history. But it will never be the same. I will never be myself again, and I can only hope that my new self will realize that.
I can only hope that she searches with everything she has to figure out why.
Life has been good to me. My parents were good people with steady jobs that kept the family out of the slums. My younger brother was so sweet, the most lovable nuisance in the world. I got through school easily enough – not a perfect student, but not a bad one, either. I had good friends who I trusted and who trusted me in return.
When the Royals approached me, offering the job of a lifetime – I'd decode ciphers, spy on the enemy, occasionally steal their plans – I didn't know what to think. Apparently, I was prime material, but that wasn't really what interested me; I was, after all, fresh out of college, and I hadn't scored an amazing education there anyway. All I really wanted was a job with good pay that I wouldn't mind committing to, and here one was. Of course I accepted.
That was probably the best thing I had ever done in my whole life.
Almost immediately after initiation, my world got crazy. It didn't take long for me to realize what they had left out of the job description – fieldwork. Every mission sounded so simple on paper, but as soon as you stepped into enemy territory, the threat of being shot in the back of the head complicated things. I can't count how many times I nearly died stealing enemy information. Yet I was always successful.
And then I met him, the man who should have shot me as soon as he realized who I was. The man I should have shot on sight, knowing perfectly well what side he was on. The man who revealed to me the truth about the Royals, about myself, about everything I knew. The man who would shift my loyalties forever.
His name was Anthony.
• • •
I was on a mission to intercept a transmission of orders directly from the enemy's counsel, but in order to do so, I needed direct contact with one of their radios. Ever since they revived the use of radio waves and figured out how to isolate a single wavelength to be inaccessible to any communicators except ones directly connected, no one could hack in. Unless someone like me listened in on the transmission directly.
Clad in black, with a technological cloak that confused others' perception of me, I found that breaking in and getting the transmission was the easy part. Getting out should have been even easier, and it would have been if they hadn't planted a bug in the wavelength. It disabled my cloak and made me visible to anyone – and I didn't notice the flaw in the cloak's functionality.
We bumped into each other, literally. I was in a self-assured haste to get out of the base before the theft was discovered; he was off to complete some mundane delivery. The collision knocked the small box out of his hands. Out of instinct, I bent down to pick it up and handed it to him politely – then realized my mistake.
"Excuse me," I muttered, trying to push past him.
He turned toward me. I heard him call out a single word: "Wait."
And slowly, ever so slowly, my heart thumping in a panic, I turned to face him. I'd never been caught in the act before. I'm a terrible liar – always have been – and my acting skills are no better.
"Where are you off to? You do realize the rendezvous is this way?" He flashed a smirk, then gestured in the direction he was heading – the opposite of where I needed to go.
I nodded. "Of course. I just need to drop something off first, sir."
It took less than a second for me to catch the brief flash of confusion in his face. Apparently people didn't refer to him as sir.
"What exactly are you planning to drop off?" he asked. I caught his eyes searching me for a package or supplies, and I blushed.
"Um … pick up. I need to pick something up, not drop off."
"Right. And that would be?"
I bit my lip. "Uniform?" The word slipped out with a faint squeak, and I was perfectly aware how dubious it sounded.
"Do you need help? You look lost."
I opened my mouth to reply, but no sound came out. It took me a moment to warm up to the idea, but eventually I closed my mouth and gave a shallow nod. If I were discovered, it would all be for nothing, but if not, maybe I could get some real information. The sort of thing that would change the war entirely.
He smiled weakly and shuffled the box in his hands. "This way."
I know it was dumb. You just don't follow your enemy through his own compound after giving him a bucketload of obvious lies, hoping to still remain undercover. I wasn't planning on him finding out. I wasn't planning on falling in love with him. I wasn't planning on finding something that really would change the war completely, myself with it.
None of it was supposed to happen. But it did.
• • •
I lean against the table, ready for whatever is going to happen next. My life will be torn away; while my outer body remains almost the same, on the inside, a new person with new memories will walk in my footsteps. I will never have existed. Some stranger will take my place.
For some reason, I'm not afraid. I've lived my life. I've been everything I have wanted to be and found more than I ever could have expected to find. I made my loyalties, made my betrayals, chose my side.
The Royals can figure out who I really was, what I really did, without my help. They can pretend to understand my choice to fight against them rather than follow the blueprints that I helped create. They can try to unravel the knots I tied around their plans. They can try to fight, but I cuffed their hands behind their backs years ago. They can keep on going, pretending that they will win, yet never knowing why this war even started. They can keep on believing in a goal that isn't there, fighting a fight that they were programmed to create.
I don't care anymore, because I know something that they can only wistfully feel but never understand. They will never comprehend that they are only puppets. Puppets that were strung without resistance, puppets that have forgotten the wiring etched into their souls. They will never be able to remember what the world was before they woke up on one of these examination tables, without meaning, without purpose.
They will never know who they were before they woke, and how that ignorance has turned them into who – what – they are now.
I don't remember who I was the first time, but I do know who I am now. A malfunction. A puppet who fought against the lies and cut the strings that controlled me, and found the humanity tucked away within myself. Now that resistance must be forgotten through new strings so strong and unbreakable that I need an exterior piece that will control my every action, my every move, my every thought. It's not about liability, it's about humanity. But to them, it's the same thing.
While they pretend to feel, pretend to live as souls uncontrolled and unstolen, while I slowly lose the very humanity I fought so desperately to find, while they rely on the cybernetics that trace their veins, I will have known the truth. About myself, the world, them.
Even though I will forget, I will also know, deep down, that for a little while I was more human than they ever were. And I know, deep down, that there is a chance that I will find myself again.
The sedative is cold as it seeps into my blood, and softly, everything goes black.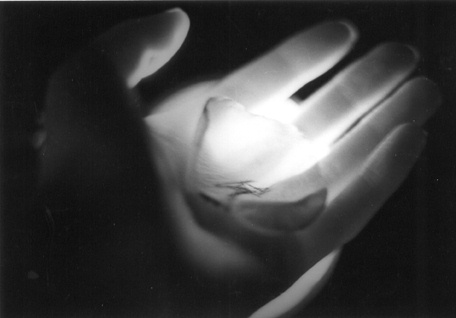 © Feichen Z., McLean, VA