Divide
January 6, 2016
I remember this one legend that got passed down, about our creator. Norma, they called her, I think. The sapiens had this story that Norma was some crazy witch who liked to eat children, and she hid in the trees to capture her prey. The sapiens will say anything to explain us, to make themselves better.
I also remember another legend about Norma, that we efercalis created. The Norma in our story was burned and warped from something called a nuclear toxin or radioactivity. She went to the city for help, but everyone shunned her. The only place she could go was the woods, and she had to live up in the trees because the ground was poisoned by the toxin and stuff. We couldn't ever come down to earth because we'd only get sicker; plus, the sapiens owned the ground. We held the skies. We differed so much now that we couldn't both be considered human. Generations and generations (and still more generations thereafter) of our individual methods of survival had turned us into different creatures. Someone read that to me, about an original sapien male named Darwin, who first said something along the lines of "two groups of one species can successfully, after many, many years of living somehow different lives, become two completely new species."
So there we are. Us: efercalis. Them: sapiens. Well, not true sapiens; there's no such thing anymore. They've taken the name "normalis" when comparing us. As if they're somehow better. As if they're somehow unchanged.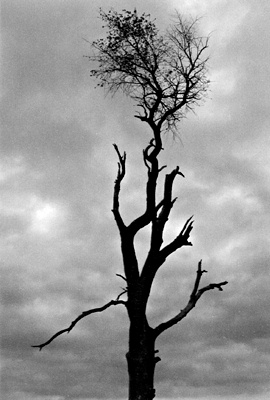 © Cassie H., Carmi, IL