The Memory Machine
January 22, 2015
"Hi there, sweetheart. What's your name?"
Annie bent down on one knee of her faded and ripped jeans to talk to the little girl who had just bumped into her. The little girl was about 5 years old and had a look of fear piercing her bright green eyes. She did not reply to Annie's question. Instead, she just stood rooted to the spot, staring at Annie, so Annie decided to try a different approach.
"Are you lost, honey?"
There were all sorts of people at the community fair, but none of them seemed to take any notice of the little girl. While Annie had been looking around for concerned parents, tears had filled the eyes of the little girl as she said,
"I was looking at the fish and mommy and daddy went away."
Annie gently brushed away the tears, thinking absentmindedly that her eyes looked familiar, and said,
"Aww, don't worry, sweetie. I'm sure we can find them. You know, when I was about your age, I got lost at this very fair. I was looking at the fish, too."
She aimed a wink at the girl as she stood and held out her hand to take the girl to the announcements stand.
"Maybe your mommy and daddy just don't appreciate the fish as much as you and me, hmm?"
The little girl's tears lessened and she let out a small giggle. Annie realized that she would have to tell the man at the announcements booth what the little girl's name was, so she decided to ask again.
"Okay, sweetie. Now you have to tell me your name so your mommy and daddy can find you."
Suddenly a shout came from behind them, piercing through the crowd,
"Annie!" It called.
Annie turned around at the mention of her name, and the little girl turned with her.
"Mommy! Daddy!" The little girl shouted with delight and relief as she ran into her parents' arms. The parents enveloped her in a hug as they simultaneously scolded her for getting lost. Annie could only stare at the two adults as they continued talking to their daughter.
"Mommy, daddy, I met a nice lady with the same name as me!" The parents looked up, concern filling their faces, but Annie had already disappeared into the crowd. She had run as far away as possible as soon as she had recognised their faces.The little girl did not just share Annie's name. The eyes of the little girl had looked familiar because they were her eyes. The adults were her parents. the little girl was Annie.
Annie awoke with a start. It was only a dream. Or was it?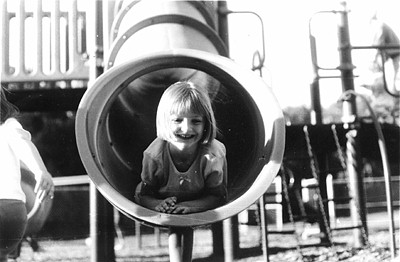 © Lara C., Norwalk, CT