Ugh.... Crushes
November 11, 2011
No, no, no.

In my world, where love is an embarrassment to nature, and where everything that I've ever known is slowly crumbling into some sort f shallow impulse, there's nothing like writing it down.

It begins with boredom, the incapability to find something meaningful, the lack of value in the things around me. And then the thoughts start to come up, emerge from their submergence to forceful ignorance. It's something special- something that I was to forget and be free of, not let it be apart of me. But there's no escaping it but to shun it from my reality, and that takes energy that can become tired all too quickly.

The embarrassment is some sort of disease- like knowing that bacteria is slowly condensing into your blood and infecting you, witnessing the bugs swarm and break your immunity apart. It's ugly; you know it's apart of you

I try to get him out of my brain- I know that I'm more of a fantasy in these daydreams than he is- the daydreams I know are playing in my head, underneath the walls I plastered round my brain for resistance. I am not as special, do not meet the standards that are necessities. I kick myself whenever I become, grudgingly, aware of this. And even more grudgingly, I become aware that my wall- my immunity, has become weak.

It's a feeling that does not come from you, so it is not familiar, and you cannot stop it. It's a rope that falls from your heart through your skin and rolls to someone whose name is unutterable to your mouth. If you say it, your whole self becomes changed- you become sick with the thought that you are as weak, as displeased as you are. And some adventurous, accepting part lightly whispering within the center of those resisting yells- the wall, the immunity- spurs me on, drives me on, keeps the feeling locked in my chest. It's the origins of my madness.

I guess this is where it comes from, that we're all mad.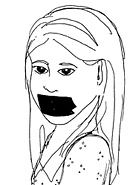 © Liza M., Vineland, NJ