What an ugly face
June 7, 2010
What an ugly face.

The mirror was almost taunting, flashing such a horrid feature back at me. I didn't want to see it, not really, but I didn't look away. What would be the point? That ugliness would follow me wherever I went, in whatever I said or did.

What made someone ugly?

Was it the lack of truth in their words—the amount of truth in their words?

What made me ugly?

I suppose it was the enjoyment, the pure lust I got out of shooting cutting words in his direction. It pleased me to make him hurt. I had been told that in those moments my face took on quite a frightening expression, but only sometimes. I was careful. I couldn't have glee in the face of his hurt. What would that say about me?

Did it prove my ugliness?

It amazed me, sometimes, how they didn't catch on. I suppose that meant I could lie with successful results. I also suppose that I always expected them to notice more than the surface. Perhaps I was too wishful in my thinking, or perhaps I was merely overestimating their abilities when it came to me.

Not that it truly mattered either way. I was twisted in a way he wasn't. He was someone I could see those cliché white wings sprouting from his back. Not that he was the perfect angel or anything—he wasn't. But I'm worse, so much more dark—dangerous. Did anyone understand that? I think, maybe, he could understand that.

He dealt with it, after all.

All of this—didn't it make me ugly? And yet, their words of praise and love and reverence followed me wherever I went. Then there was the opposite; those who cursed my name and sought to destroy my very existence. Why couldn't anyone make up their mind? People approached me, speaking my name as though they spoke to me every day, as though they knew me. They didn't.

How was I supposed to respond in those moments? There was nothing to do but blow them off, to make up some untrue excuse to get me out of conversation. I didn't want to speak with any of them. I didn't know them, didn't recognize them and if I did, it was the barest memory.

But I recognized him. How could I not?

And he recognized me. I wouldn't have it any other way.

A horrible person is what I know I am; a twisted, ugly person.

It's a wonder the mirror didn't break with my every reflection.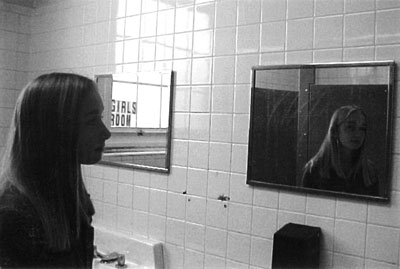 © Jill H., Pompton Plains, NJ