Pleasant Nightmare
January 14, 2012
The white fence stands before her with each perfect picket sitting exactly 3 inches apart; each buried exactly 2 inches firmly into the ground. It's perfect. It stands there mocking her from its surreal reality perched in front of the towering redbrick wonder. Its symmetric 1.5 inch lawn a flawless shade of forest green, a small patch of flowers sprinkling the grassy knoll, each poker red brick is encased in a mundane covering of concrete, thousands lining the massive structure before her. This distorted perfection, down to the Victorian wrought iron mailbox and oak-stained playground. A child's dream; with rounded corners, supervised play, pristine swings and spotless tables. A dream that suffocates from the inside out, slowly wringing the individuality out of each creative soul. It begins at birth as the nurses coo over the baby with a head of tight curls or a dimpled chin, the same curls that will be crushed between two hot metal plates and now non-existent indent filled with a concentrated burst of collagen.

She sits in front of this fence only to see a mirrored image staring back at her, each house a redbrick wonder and every lawn impaled with white wood. Not a single flower out of place. A sea of bleach blonde sits on the curb, giggling and laughing, frozen in a routine that embodies perfection. Behind them an orange sphere ricochets off a ring as their future Adonis husbands battle for the dominance of a driveway. The previous generation reign upon their throne of seniority watching a colored reenactment of their past, waiting for the embodiment of themselves within their spawn. Ready to pass their monogrammed towels into the awaiting hands of future redbrick real estate owners.

But there's always the pariah. The one who watches and observes but never participates in delicate balance of lies and truth. Her comrades mindless march to the tempo set by Donna Reed and Lucille Ball while she sits in the shade documenting the beautiful disaster on the evenly spread pavement. Never spoken and never seen, she fills blank lines with looped scrawl indicating eighteen years of silent observation.

The clones look upon the Pariah through their white wood slots as the black sheep soundlessly exits the pasture, a faint memory of the silent addition to a perfect world.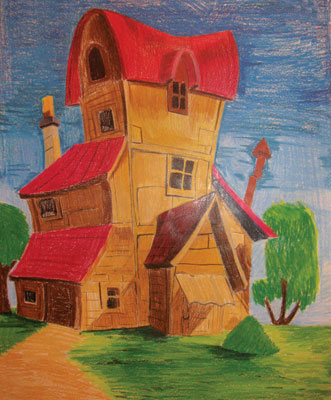 © Ronald W., Sherman Oaks, CA