Waves and Hypotheticals of the Undead or Justin
September 11, 2009
Hey kid,
It's me,
The one who volunteered you
The one they misinterpret for the betterment of my ego
(It's not that way)
The one with clunky transitions
The one who never bent over backwards
But you know is flexible enough to do so
The one whose greatest challenge was to write this
Hey kid,
Hey,
It's me
My truths are the truths of tourist brochures
And though this is a humbling plight,
I still would appreciate the rent, Because I'm sidetracked
And I couldn't help but notice that thought you had
About the knife on your arm
That thought you had about your own funeral;
The night and all of its misgivings;
Your thoughts and all of their proceedings
I couldn't help but to notice you were bleeding
Down from light or might verbally
And those days we had where we balanced on the curb by my neighbor's house
Your arms in a parallel with every single tree or house or powerline
In your horizontal,
The wind caressing your fingers,
Its song seducing your mind
And the only thought you had then of suicide
Was that time we played cops and robbers and you died to save me
Your brazen figurative dissolving
In the orange, setting sun of our suburbia
And even then we still balanced on the curb
And I still felt like I knew you
But now I don't,
So let me introduce myself,
Again,
Hey kid,
It's me,
You've missed a lot since you've gone
The technology we've made and the problems we've overthrown
Iphones, wireless,
The stock market crashed
The cubs still haven't won and we've got new styles of cash
But the dollar still won't last
Bin Laden's sill in some cave
His war is caving in
But ideas just won't dissolve
And as such we'll never win
Yeah, Islam is still a sin
France?
No I still haven't been
I was waiting on you remember?
The globe is still warming, but I'm still cold
And we still hate the word "September"
Pants got tighter
And the sea level higher
My hair got lighter
And your gravestone got brighter
Because the florists conspired
And gave me a wire
Holding one single rose,
An embellishing fire
Burning problems you hired
And my biggest;
Its desire;
My ex,
I still like her
And I just can't seem to fight her
Out of my mind
And it's kind of funny
Because you didn't meet her before you died
So I'm not really sure why
I'm wasting my time
Speaking in circles and annoying little rhymes
To lead up to her
I guess I just wanted you to know about
Stuff
She's really hot though trust me
Hey kid, hey,
I say it twice for the attention
I feel I have to compensate for my missed intervention
One
Hey
For the dead
One
Hey
For the undead
So wherever you are, you should be able to hear me
Kaiser initiating destruction
Kerosene intertwined with decoration
Kids influenced by daiquiris
Killing intrigues the dead
Killing in duress
Kindly impressed by the distinction
Of life and of death
Of Jesus and Hitler
Of Cool and Gay
Of the Rich and the Homeless
(Who understand the crux value of riches)
Of White and any other color
Of Chivalry and Media
Of Worth and future generations
Of Heaven and Iraq
Of Truth and
Everything we have Created
And still will never prove
Hey kid, hey,
I need you back down here so we can drown together
What if you were supposed to find the cure for cancer?
Symphonies die and still provide me with an end
An everlasting melody
That's stuck in my head
And I hate the song
Because it reminds me of then
And of now
And of all which that entails
Did you ever see yourself go?
Nature is callous, kid,
Teasing me with what I might have known
Teasing me with life and light
Does my tease benefit this Earth?
Does our death benefit this Earth?
Is the mockery of the darkness in you too
Or
Have you passed through this night?
What am I then?
Nothing,
But the day
Do you remember the times when we knew nothing of night and day?
And everything seemed so hit or miss
As far as sunrise and sunset
But we would always live for tomorrow
For the next sunset
For the next sun to be discovered
And I can't help but wonder if you were just in the Gath of the setting August sun
If your Sun was burning out so you could find another
And I can't live for the both of us,
Kid,
Just like I couldn't bring myself to take you under
It was like a
Exposition
Of the fact that I blew you off when you called
It was as if I were admitting to the world that I left you despondent
And I can't help but feel like I attributed to the extinguishing of your Solar System
And kept your Saturn's rings on my dresser
Next to that space we shared
Next to that noise we blared
Next to that curb we feared
In that moment we cared
And had our reality commandeered
By the harshness of Winter and the deceitfulness of Fall
Knowing her sister is coming
And not warning us at all
Except by October snowfall false alarms
Aimed to see if we're paying attention
And the creation of our own vain calendars
As if alone we could make puppets of due course
And due chance
And due nature
And even so, I'm holding on
Knowing full well that the day will come when I will let go,
I will hold on to know in that moment
That I can
In fact
Hold on
And it is true now
I look past beautiful embodiment
Wires and gold tinged skylines
Guilty curbs of
Neon, naïve, death
The peripheral highlight of my remorse:
Jagged song
(only 16 verses long?)
And undying
As we all sing his chorus
Contemplative, presupposed,
It counters the chants of lies and claims
Because death does
In fact
Exist
And suicide does
In fact
Exist
There is no claim
There is an autopsy
There is a regret
There is a march
Circuit bending and pride sending
Down
Down
Down
What If I died right now?
Right now in mid-sentence
mid-thought, mid-finished, comfortable,
But never knowing comfort
Because I died three lines ago
Unaware of smooth, rescinding, touch
A love now found so much to lie fast asleep in leather chairs
And lathered hands, only dried by our existing sanitation
Of the alive
But still only sanitized, not sterilized
No, definitely not sterilized
Because I wait for sirens to tell me when to leave my house when it is burning
Or I will fade into your world, kid,
And though I'm still not really sure why
But I want to hold on for a little while longer
Hey kid, hey,
Your memory takes me by the waste
A scold for my broken stride
It pulls me up
And let's me break step again
A dance too demanding
I see why you quit now
But no more landscape shifts
No more house or tree In your horizontal
In the setting suburban sun
Focus focus focus
On broken backwards patterns
Or dances too quick for scribes to record
A lead on why it sucks to be at your funeral,
Kid,
And tell them all it was a shock to me
And furthermore to have them believe me
And hide it from the children
I got your call
And I chose to ignore it
And I live
And you do not
And they take you away still recording
Your own trial
Scribing your own voyage on the 8th cryptic sea
See, 89 outreaching hands begging for another reason
The 90th,
My right hand
Is behind my back
And my fingers are crossed
And your pupils become bouquets
And my thoughts convictions
And your concepts motives
Movement stops
And you jerk to attention
A testament to how you used to sacrifice yourself for me
No artistic intentions
And there is a wink from the guillotine
A relapse of Constance
And a hopeful longing from the sky
It seems someone is trying to tell me something
Focus, focus, focus
Your pupils fall on lead points retargeted by some reflection
Of the people
Of our existence
Of the curator of nature
Of the curator of the undefined
A hurrah will suffice
Three cheers for democracy
Our insignia on hot machines
Gravestones, computers, guillotines
All lead to similar, transitive
Resolutions
In hi-def, crystal clear
So both young and old and black and white will see
See you taken to a peak and dissolved
Prophets sworn by peaking profits
After all, kid,
You are just another statistic
To write and create
With endless support in silhouette of old,
Forgotten,
Hate
And the sun will turn still ever moving to alleviate such pain
On you mother and father and sister and cousin and all the other dinner guests
Hey kid, hey
What happened to the good in us?
How did we let it slip away?
Careless,
Into the bottle,
Into the overdose
Why were you afraid to live?
I still saw a spark in you
Death's got the final word
Posthumous fire,
Where is your spark now?
Where is it that we were together?
That I thought with,
Walked with
Darkness and light, strife and love,
Are they the workings of one mind,
The features of the same face?
O my soul,
Let me really be in you now
Look out through your eyes,
All of the things you thought
And thus are made
All things shining
Shining like shots
I'm glad to be going
I walked into the day,
Stood on the forgeries of the new sun
You can't forget it, each time you start from scratch
I want to stay changeless
And scratchless
I want to leave this world how I was before
How did we get to those other shores?
Ideal, distress, contemplations
On a shore undefined,
On an ideal distress
Where does definition come from?
Dead and alive
Focus, Focus, Focus
The definition of the spark
Who put this flame in us?
Who let realizations put it out?
So a death wish can put it out
I don't want to feel that desire
But living in our world
The world you once had, kid,
Do I idly attribute to the desire
Of you
Of us
Of the spark to be put down?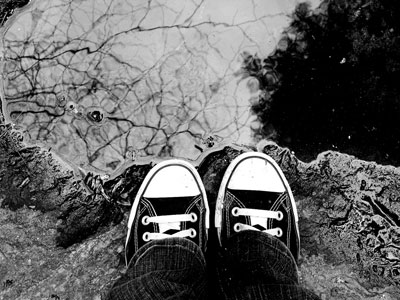 © Michelle B., Blairsville, GA