Monsters
October 31, 2009
Sharp eyes, fiery tongues casting blazes...
Blazes burning the plants that are our lives, shriveling them up, and casting them aside.
Tongues that belong to monsters.
Monsters with faces, blank faces, that never give you a second glance, unless it's to judge you, to cast you a glare.
Their hands of sharp metal, poking and prodding you, digging up your past.




Shivering figures, trembling in the cold...
Though the warmth is unbearable, they still cower, looking for a warm blanket, that ends up strangling them.
Blankets of warmth that belong to monsters.
Monsters that pretend to keep you warm, hovering about with a blanket, then take it back, strangle you in a blaze.
Blankets of rusty nails, casting pricks and pins in you, keeping you cold.




Old fingers, weaving new life...
They prick their fingers, letting the blood run on the new life, and corrupt them, leaving death in their wake.
Corruption that belongs to monsters.
Monsters that kill others, ripping out their hearts and throwing them on the ground, then stamping out whatever good is left.
Blood running on new life, leaving behind a wake of death.



Monsters standing silently, laughing inside...
I stand among them, shivering silently, I am not one of them.
Laughter that belongs to monsters.
Monsters that are so kind to me, because I am the friend, I am the one whom everyone tells anything, I am an ally.
I stand with the monsters, hoping I can leave, but know I never can...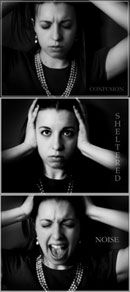 © Michelle B., Blairsville, GA