As Told by a Bitter Tulip
November 27, 2009
What they seem to lack in fairy tales

Is a thoughtful dose of validation.
I'm sure you morons wouldn't believe

A far-fetched life is no vacation.

Have you ever wondered where the key

To the secret of white teeth is kept—where to go?
If Prince Charming's smile was brighter than wood,

Trust me, he would've told you, and now you'd know.
Like all medieval chain mail linking, hunky men who gloat,

Every prince kept his mouth shut, for they had no rotted teeth to show.

And fairy wings? Are you kidding me?

I thought this was a gag to coax me mad.
Hans Christian Anderson was a crazy fool

Whose eyes were terribly bad.
A few blue dragonflies, I'd hardly consider,

As whimsical creatures sprinkling glitter.

And do I need to smack you right?

Prince Charming never rode horseback to some great fight.
Oh, what a poor, poor princess suffering a doomed, doomed plight.

A clichéd hoax set after each cold-footed girl took flight.
All they suffered from was the heart of a wimp.

Take it from me, a thumb-sized shrimp.

At least I know just what I am.

I set my story straight.
That ignorant peasant who plucked me born

Damned me to my mutant fate.
To all those full-grown fairy-tales

Who developed through the summer,
You're far too conceited for your own good,

And you couldn't sound any dumber.
Even I with my squinty, underdeveloped vision,

Can see the scars where every doctor made the first incision.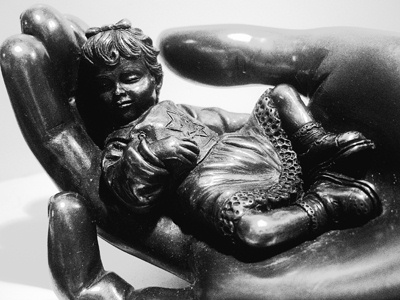 © Dat L., Worcester, MA