I Love This Part
March 29, 2010
First come tryouts, auditions
Then the list
Boosted confidence
Tears that will dry
Then rehearsal, starts out hight.
Choreography, lines, blocking
Rehearse, rehearse, rehearse!
Bonds built, like sets
Costumes and stage crew
Dress techs
Directors panic
"They aren't ready!"
"Opening night cant be a week away!"
But opening night comes
Sore throats, nosebleeds, drama, emotions run high.
Butterflys, stomachaches
"Mom! Enough with the eyeliner!"
Last minute touch ups, brush ups.
Tips from the director, "Break a leg!"
Everyone is set onstage.
Lights go out, a hush comes over the babbling audience.
Director's speech, curtain up
Then, spot on me.
My time to shine
As i open my mouth to sing,
I am reminded
of how many months of preparation &effort
And parent voulenteers
All boil down to this
I am reminded just how much
I love acting
Every last second pays off in the end.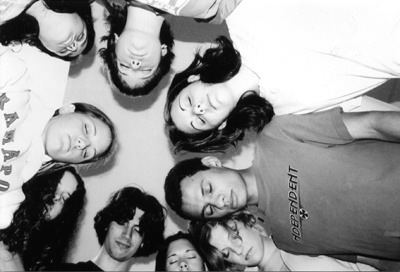 © Emma L., Oakland, NJ