Just a Dream
May 13, 2010
Light streams through my window, but it is night. What could it be, that which is so bright?

I creep across the soft, warm carpet, and slowly peek through the curtains.

There is nothing. I squint my eyes and see a shape coming forth out of the darkness.

Then a pebble comes flying at my window. It hits me square in the forehead.

" Ouch!" I complain.

I hear a resounding " Sorry!" from bellow me in the darkness.

My heart swells. " What are you doing here?" I hiss, but I am not angry.

You come close enought to the window for me to see you. You clear your throat and smile.

"Rapunzel, Rapunzel, come down from there! I will wisk you away into the night and we can ride away into the sunset... Just you and I."

I smirk outwardly, but my heart does a little jump. "Did you write that?" I ask.

You nod slowly.I smile. " That was cheesy. But lucky for you...I like cheesy. Okay, I will come down there. But my parents are sleeping. Be quiet."

I tip toe down the stairs and out the door. " Romeo, Romeo, wherefore art thou Romeo?" I whisper, searching for you in the darkness.

" Here!" You say, and I whirl around and am staring into you eyes. You chuckle softly.

"Let us do as hands do." Now you are whispering.

Then there is only the blackness of my room.It was just a dream, but how I wish it wasnt!

When I get to school, I spot you. But you dont even look at me.

Well...At least I have my dreams to keep me company.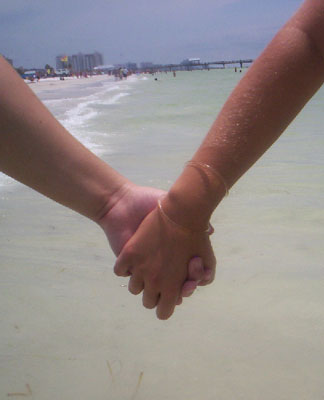 © Belinda H., Palm Harbor, FL