Highway 101
August 10, 2010
i. turn the key, the engine's hum grows to a roar

roll out to the highway,
five minutes late already, the sun half-risen
briskly shoot past the others on the four-lane highway
driving's ordinary excitement takes over this morning
flying past, exhilarating, you are floating
this is how reckless driving feels.

ii. slowly the cars around begin to cluster
simply an annoyance, you flick your wrist
left, right, left
weave through like the skilled fingers of an artisan

iii. continue, consumed by these
careless brushes with danger
the horns cheer you on,
your childish, almost innocent
energy
fueled by a double-shot coffee
rushes to the road.

iv. feeling this sensation
you are almost heroic, a pioneer in speed
one out of many.
you've got the courage, you have the power
no traffic lights to hinder your path of conquest.
your victory.
Reckless, you fear nothing, not even death
life is worth is endangering
in your passion for speed.

v. queen of chess, you are ruthless in your battle
one against all in this highway
checkered with trivial barriers filled with living people
careless, reckless, driving like you're high,
blinded by your quest for speed, an accident waits to happen
it does happen, at the cost of a pawn
an innocent bystander following his own ordinary routine
a lamb to the slaughter
expecting nothing
but the greeting of his honest work for the day.
But you, queen of the highway, intercede
and barrel through the lane one more time,
you pummel the helpless pawn of a motorcycle,
throw him up to the sky
he rises upward in this panic
reaching an epiphany of no other,
one that is reached by the poets and the stars
fly through the heavens, in this mess he defies gravity
Look up. Look up at this spectacle.
Heads turn, eyes stare up at this Galileo
hanging in the heavens; waiting, waiting
like a falling star he drops.

vi. the ground rushes up to greet him.
like a rag doll flung by a careless child, his body is flung
inaudibly crashes against concrete, a leg bends grotesquely
red red red black.
metallic, cement collisions
pain
no more panic, only hopeless destruction
a sacred body shattered, defiled in the wreckage
filled with blacktop, heat, blood, cracking and impact
This is what you have caused. Your Napoleonic quest for
adventure, early morning speed has shattered
bones, a leg, face, a body, a life
lives of others forever crushed and scarred.
Have you chosen wisely?
Were you driving or were you in a one-car stampede?
In your rash pursuit (or was it escape?)
this is what you have caused.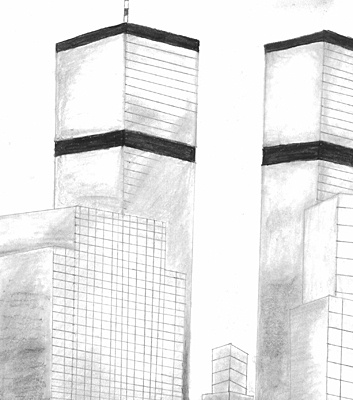 © Krisa S., Omar, WV