Abusive Partner
March 31, 2011
Why am I always hurt?
Day and day it's always the same,
He hits me and kicks me
And says it's all my fault
That he suffers at work.
I try to hide the bruises
Under make-up and clothes.
But the physical pain is to
Much to bear.
I don't think I can take
Another day of this.
He walks through the door
All mad and ticked off.
He grabs me and hits me
With the back of his hand.
I start to whimper,
He yells horrible words
And slams me onto
The cold hard floor.
When I start to cry
He picks me up
And throws me on the bed.
Then he feels bad
And gives me a kiss.
I feel like I'm standing alone.
Fighting with right and wrong
Should I stay or
Or should I go?
But in the end
I always choose wrong.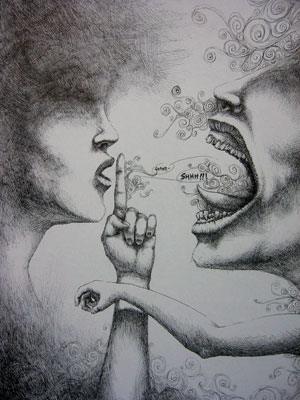 © Andrew M., Apple Valley, MN