Those Wretched Tears, They Come No More
March 16, 2012
I walked into the room,
Accompanied by a few peers.
And so I sat and awaited my doom.
And then they trickled down my face, those wretched tears.

In came the principal
And my teachers, all four.
They glared at us, ever so critical.
And then those wretched tears, they started to pour.

And they began the lecture, the principal the header,
On organizational issues.
And how they could help us get better.
And those wretched tears kept on coming, so I grabbed some tissues.

They told us of bad grades and "so little days left to go."
They said if we kept it up, we could fail.
"The year doesn't last forever, you know."
And as those wretched tears kept coming, nervousness had be gnawing at my nail.

And through it all I wanted to scream,
"It's not my fault!"
"It's the other kids being so mean."
And as I bit my lip to keep from shouting, those wretched tears came to a halt.

I opened my mouth, as if to speak.
At first no one realized.
Until I said, "It's the bullies that are making my grades so weak!"
And at that moment, those wretched tears never fell from my eyes.

"I'm fed up with it! It's just not fair that I have to live this living hell!"
"I just can't take it anymore! It's too much! I'm done! I'm done!"
"And I'm sick of failing just as well!"
And never again did those wretched tears ever fall, not even just one.

But then I return to reality.
It was all my imagination, but for a second I thought I won this war.
Hope still lingered even though what I thought was a success was instead a fatality.
But even so,

Those wretched tears, they come no more.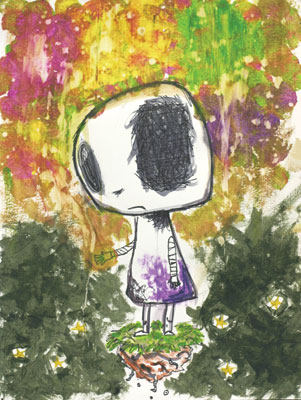 © Ashley W., Port Charlotte, FL