Fireworks
November 2, 2012
A solitary missile of white sparks
Pierces the velvety blanket of night sky.

Swiftly,
With a sound replicating the crack of a gun,
The single missile multiplies.
Dozens of other missiles emerge
From the single missile
Shooting outward in every direction,
Sprouting into a wondrous explosion of colors,
A dandelion puff of sparks.

More follow,
Each one surpassing
the extravagance of the preceding.
Each one unique
in its way of displaying magnificence.
Each one shifting into various shapes,
Capturing the imagination of the onlookers.
A thick plume of fire spiraling upwards
Is a fiery snake crawling towards the sky.
A great billowing cascade consisting of
Every color imaginable
Is a blossoming flower spreading its petals
Each one illuminating the sky,
A light in the darkness.
Each one leaving a trail of sulphurous smoke,
Leaving a distinct pungent aroma.

Each one casting their light
Upon the sea of enraptured faces
Staring upwards in awed silence
At the magical phenomenon unfolding above.

And in that moment of time
While you feel yourself falling
Into a trance as you watch
The hypnotic shapes snake across the sky-
As you marvel at the beauty
Of the spectacle in the heavens-
All fear,
All worry,
All grief and concern
Evaporates
And you feel as if
The world
Is a perfect place.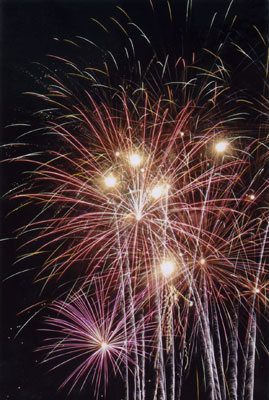 © Michael D., Hawthorne, NY