quaint wrists
March 9, 2013
(a) i wish i could master the english language
so perfectly that i could describe with
heartwrenching precision how i feel
when i think about your eyefolds or your
tummyrocking voice or that scandalous wrist
with my name spilled on the side like simple

(b) sick dreams tonight-mostly of
you-obviously-I have this sick desire to
capture you in a dark room and sit you blindfolded on
a table, me right behind you, tracing words into your
back and forcing you to guess what they are

(c) what can be annoying are these sounds soft
enough so you don't know what they are and loud
enough so you know that they're there and-

(d) quaint me. i've forgotten we live in the twenty
first century. silly me. what are the right steps for this?
get the number type the message and wait wait wait

(e) -and this random soul, peepinginquietly right
into your life, as if your breath's a door and he's just
staring into your tangledness and it's enough to feel un
comfortable, but just the perfect amount to make your
heart flutterflutterflutter

(f) i've decided to be direct and address you right:
I have this terrible habit of letting people spur these memories
in me and urges to tell terrible stories but usually people stop
listening before I get to the point the real point the real oh so
this isn't just random it's calculated and simple point

(g) alright so your eyefolds are feathered, I've never
seen feathered eyefolds before, just like I've never seen purple
eyes, so much, that I think purple eyes are an urban legend and

(h) who knew boys like you could be true?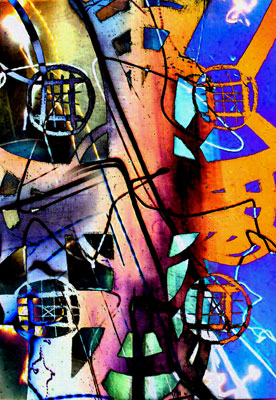 © Caitlin D., Tyler, TX